Inspiration is the spark for a new design. It is a fundamental first step in creating exciting work that pushes boundaries and attracts attention.
Designers of all kinds, from architects to fashion designers, start with an idea, image or feeling that motivates them. Through a creative process, they develop that inspiration into a design concept and eventually a finished product. They must know how to express their vision and creativity through their design work and transmit their inspiration to the audience.
Although for fashion designers inspiration is crucial, finding it is often challenging. They have to create new work season after season while staying on the cutting edge of the industry. Have you ever wondered what inspires them? How can they come up with so many new ideas? How do they turn an object or a feeling into a product line?
This article demystifies how fashion designers find inspiration and transform it into unique garments, shoes and accessories.
Inspiration is fundamental for fashion designers
To make a new product, fashion designers don't just look at what other designers are doing and make a few tweaks. They convert a story, feeling or concept into inspired designer clothing that resonates with their audience, all while balancing form, function and budget.
This creative process is usually shaped by the designer's speciality and level in the market. Some fashion designers have more flexibility in how they incorporate inspiration into their designs, whereas others need to focus more on costs, function and appeal for larger markets.
For example, a menswear designer might be inspired by different concepts from a swimwear designer. And the haute couture design process is often inspired by different sources than ready-to-wear collections.
Despite these differences, all fashion designers need to start with some form of inspiration, regardless of specific industry requirements. Below we describe some of the most common sources of inspiration, and we explain how this inspiration transforms into clothing and accessories.
What are the most common sources of inspiration?
Inspiration can come from anything – a blossoming flower, a childhood memory, a broken chair, a refreshing drink, a haunting melody. A well-known example is Olivier Rousteing's Fabergé egg inspiration. He saw the jewelled creation that Richard Burton gave Elizabeth Taylor, and he then used ornate patterns, pearls and gold in several pieces in his 2012 Balmain collection.
There are no limits to what fashion designers can use for inspiration, but some recurring sources seem to appear more often than others.
1. Nature
Fashion designers often cite elements of nature – such as animals, plants, water and landscapes – as inspiration for their work. And this makes sense, given how beautiful nature can be.
Have you ever been struck by the beauty of an orange-pink sunset, the playfulness of a zebra's stripes or the uniqueness of a beetle's iridescence? Or perhaps the coarseness of sand or the sharpness of rocks at the beach have triggered a strong emotion.
Designers frequently use natural visual stimuli as starting points for developing bigger concepts.
2. Art
Paintings, sculptures and artistic movements have sparked the imagination of many fashion designers. This connection is not surprising either, considering that fashion and art have gone hand in hand for centuries.
Many of the most famous designers are heavily inspired by art. They might be moved by a particular pattern, shape or colour palette, or they might want to replicate the lighting or texture from a particular piece. The themes and symbolism portrayed in art are also ripe for inspiration.
3. Nostalgia
Who doesn't love a trip down memory lane? Designers, artists and writers all often rely on nostalgia to trigger the creative process, and fashion designers are no exception. In fact, retro, vintage and nostalgic themes are one of the top current design trends in fashion.
Some say this has happened because COVID-19 pandemic restrictions have forced people to stay home, keep family close and look to nearby sources for inspiration. Others say that as they age, the power and importance of childhood memories become stronger.
4. Films and literature
Since the beginning of film, it has been intertwined with fashion. Fashion designers have been known to collaborate with filmmakers to create unforgettable looks and characters, and design in general is crucial in making great films, whether it be for costumes, sets, props or lighting.
And avant-garde literature also inspires many fashion designers. Whether drawing on clothing trends or overall themes from novels, they have incorporated everything from unrequited love to time travel to political satire in their collections.
5. People
It might seem that muses are found only in ancient literature, but they still exist today. Many people know about the special relationship between Hubert de Givenchy and Audrey Hepburn. He designed clothing for her for decades, creating some of the most iconic looks in film and fashion. The two became so close over the years that they each gave credit to the other for creating their style and personality.
Another example is designer Marc Jacobs and filmmaker Sofia Coppola. He's been open about how much she inspires his work, and their unique relationship and collaborations are discussed often in fashion news. These types of close relationships serve as many fashion designers' inspiration.
6. Emotions
As with all types of art, emotion is an important factor in the creative process. Whether positive or negative, an emotion can be a strong starting point for a designer. Some fashion designers strive specifically to represent physically the emotions they've experienced. Others create designs to evoke certain feelings among the audience or consumers.
7. Narratives
Sometimes fashion designers have a story to tell. They might be motivated by telling their origin story or the history of an important event. They might also combine several inspirations into a creative narrative, expressing the story through an entire collection. For example, Louis Vuitton's Ghesquière recently combined several concepts and sources of inspiration to develop the narrative of a vampire through the ages to celebrate the founder's 200th birthday.
8. Causes
In today's world, there are many worthy causes to support. And more than ever, the fashion world has become a place for people to speak out. Social media and globalisation have made fashion accessible to all, and some fashion designers are making it a point to use their platform to make statement.
Common current sources of inspiration in the fashion world include inclusion, cultural awareness, sustainability, feminism and gender fluidity.
How do fashion designers find sources of inspiration?
With so many ways to be inspired, it might seem that fashion designers don't have to search far for inspiration. But that's not always true.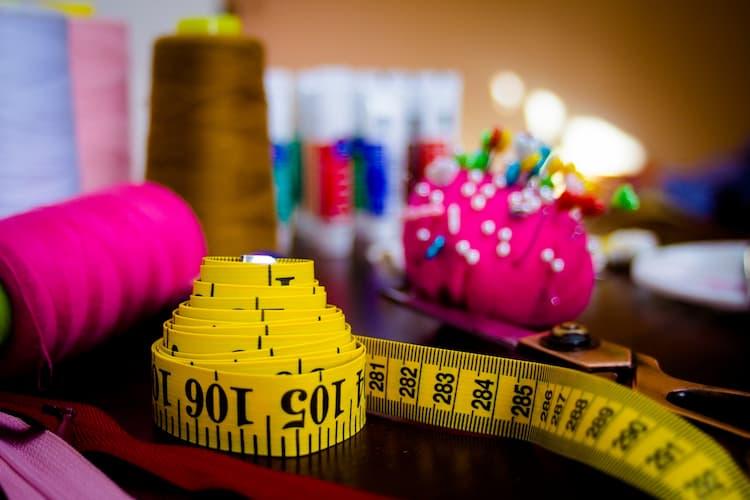 Alt image: Fashion designers sources of inspiration
Sometimes artistic motivation occurs spontaneously or without effort, but usually, designers work hard to find that one special idea. Although everyone has their own methods, there are several things fashion designers can do to inspire themselves.
Engage in other art
Perhaps the best way designers search for inspiration is by surrounding themselves with art and creative activities. Watching films, taking photos and exploring museums provide rich opportunities for considering design elements, in addition to heightening emotions and senses.
Hands-on activities, such as crocheting a scarf, sewing an outfit or playing an instrument, allow the mind to focus on different areas, stimulating other areas of thought. Practicing even when not inspired, such as by sketching outfits for a favourite character or inventing ways to recycle a random object, can lead to productive inspiration, even if motivation was initially lacking.
Travel
Almost everyone can relate to how inspirational travelling can be. It not only forces people outside their comfort zones, but it exposes them to different sights, sounds and smells. Experiencing a different culture, language or climate is a good way to stimulate creativity and search for new ideas. Travelling alone or with friends or family can also lead to unique experiences that give insight into innovative directions to pursue in ongoing projects.
Do research
Artists of all types have to do research of some kind. They investigate trends and techniques and stay abreast of what's going on in their field. Fashion designers have been known to come across interesting ideas when doing research, even when they aren't necessarily looking for inspiration.
For example, tasks like searching vintage archives, reading about textile processing, flipping through an art history book or investigating how other designers incorporate sustainability might trigger a new idea or perspective.
Observe nature and street life
Everyone needs to get out of their head sometimes, and going for walks and observing the world are great ways to find inspiration. Walking not only boosts creativity, but it also exposes people to endless stimuli. Fresh air, honking horns, gusts of wind, birds chirping and children playing are just a few examples of things that could inspire a designer.
Transforming inspiration into design
Once fashion designers find something that ignites their creativity, how do they transform it into a product? Although there are endless methods and practices they can use, some basic practices seem to be widespread among designers.
Keeping a journal or notebook helps to gather ideas
Just as writers often keep a notebook in their pocket to jot down ideas in the moment, many fashion designers do the same. Whether inspired by an object, colour, pattern, feeling or concept, they collect notes, memorabilia and sketches in one place to help them pull their ideas together into a cohesive design concept.
It's also helpful to network and share ideas with others in the industry. Having conversations and connecting with others can spur designers' creativity and productivity.
Setting goals and timelines focuses the project
Many designers are expected to meet the objectives of their particular speciality, so it's important to consider a project's goals when starting out. Is the point to focus more on function or style? How important are the costs? What will the audience expect? Although it might seem that setting parameters restricts designers, it can help them focus their design. This can drive creativity and increase momentum, moving them down a specific path.
Some fashion designers find it helpful to make timelines and outlines early on in a project. By not spending too much time in one area, they are more likely to produce work on time and find it easier to focus on the right areas.
Practicing is crucial for fashion designers
This is where the intangible becomes tangible. When fashion designers pursue a line of inspiration, they have to 'put it on paper' eventually. Even if early attempts are not original or interesting, it's necessary to keep trying different ways to incorporate the element of inspiration until something clicks and feels right.
A developed design concept does not happen overnight, and it must be developed well through inspiration, persistence and practice.
If you're interested in finding work as a fashion designer, check out these relevant articles:
https://beyondtalentrecruitment.com/blog/fashion-designer-portfolio-for-job
https://beyondtalentrecruitment.com/blog/fashion-jobs-and-how-to-get-one
https://beyondtalentrecruitment.com/blog/international-fashion-designer-jobs
https://beyondtalentrecruitment.com/blog/work-in-sustainable-fashion