Showcasing portfolios to secure a job in the fashion industry is not a new concept. Fashion Designers have been sharing portfolios to land their dream job for years. However, there still appears to be questions around what goes into making a fashion design portfolio. Most frequent questions asked are:
How long should a portfolio be?
Should a portfolio be showcased digitally or as a tangible object you can hold?
How many collections should you share?
We at Beyond Talent have a lot of experience when it comes to portfolios. As specialists in fashion design, we know what makes a portfolio stand-out, look professional and leave a lasting impression to secure you the job. To help you fulfil your career ambitions, we're here to offer tips for creating a fashion designer portfolio for your next job. Here's to building your best yet!

What is a fashion designer portfolio?
There are two types of portfolios and it's important the two don't get mixed up. There's your Personal Portfolio which showcases your full experience as a fashion designer and includes all the collections you're proud of. Then there's a Specific Portfolio which is what you prepare when you're applying for a role. This portfolio is tailored to the role you want and is shared with the recruiter to see if you're the right candidate to be referred for an interview.

Here are some more details about the two types of portfolio:
Designer Portfolio type 1: Personal Portfolio

Your personal portfolio is what you take to an interview. It includes collections you have created during your time as a designer and demonstrates the skills you have perfected. You may specialise in one category, for example knitwear, which means your personal portfolio will express this. Or if you have experience in a variety of design and trend areas this should be exhibited throughout.
Designer Portfolio type 2: Specific Portfolio
A specific portfolio is one that a recruiter or company may ask you to share after an initial discussion about a role. This portfolio is what you create to help you secure an interview. It's not what you take to the interview. You need to showcase your best collections that reflect the type of role you're going for. For example, if the position is for jersey, your specific portfolio will show your very best jersey design work.
Now you know the type of fashion designer portfolio you're trying to create for your next job, let's get into the detail about what each of them should and shouldn't include.
Create a fashion designer portfolio for your next job

Every fashion portfolio is different, and they should be different. Professional portfolios are there to showcase you, your ideas, your creativity and your vision. Make sure you express yourself and show your individual flair, however remember to keep your work examples commercial too. The companies you're applying to will need to be confident your designs can be produced and sold. But don't let this flatten your work. Make sure the real creative you still shines through.
Every type of portfolio needs to follow the same format:
a brief introduction
concept mood boards
and your designs
If you're applying for a fast-fashion role you should also include a technical drawing of a complicated item (such as a coat or trousers) to showcase your skill.

If you're after a Head Designer role then your portfolio will of course be different. As Head Designers manage a team of designers (and don't design), your portfolio will need to show how your team's final collections were created, and include catwalk and photoshoot images.
Here are more details about each of the sections a Personal and Specific Portfolio should display:
1. Start with a brief introduction
Don't make your introduction too long, work to a maximum of seven lines. It should explain the reason, purpose and inspiration behind your collections and what the reader of your portfolio can expect to find inside. If you're writing an introduction for your Personal Portfolio then it can include a bit more about you as a designer – but don't go overboard with lots of text. Keep it short.
2. Include concept mood boards
Mood boards are important to explain the inspiration behind your collections. This will help recruiters and companies see how you work and how creative you are. Include pictures, fabric swatches, drawings, and colour and textile palettes. One or two pages dedicated to your concepts will be suffice, anymore and your portfolio is at risk of being too long.
A good example of how to present a mood board in your portfolio

3. Showcase your fashion designs
Showcase your designs through high-quality drawings and photos of your final collections. Use hand-drawn silhouettes, demonstrate how your designs look when they're styled with other garments, and include inspirational images to bring the entire look and feel of your collection together.
For high-end luxury brands, employers will expect to see sketched silhouettes of your final designs. However, fast-fashion companies will also want to see your designs created with Illustrator or InDesign, alongside your drawings.
It's essential you include your very best work when revealing your designs. This is what employers will be looking at to gauge whether your style and skills are right for their company or not.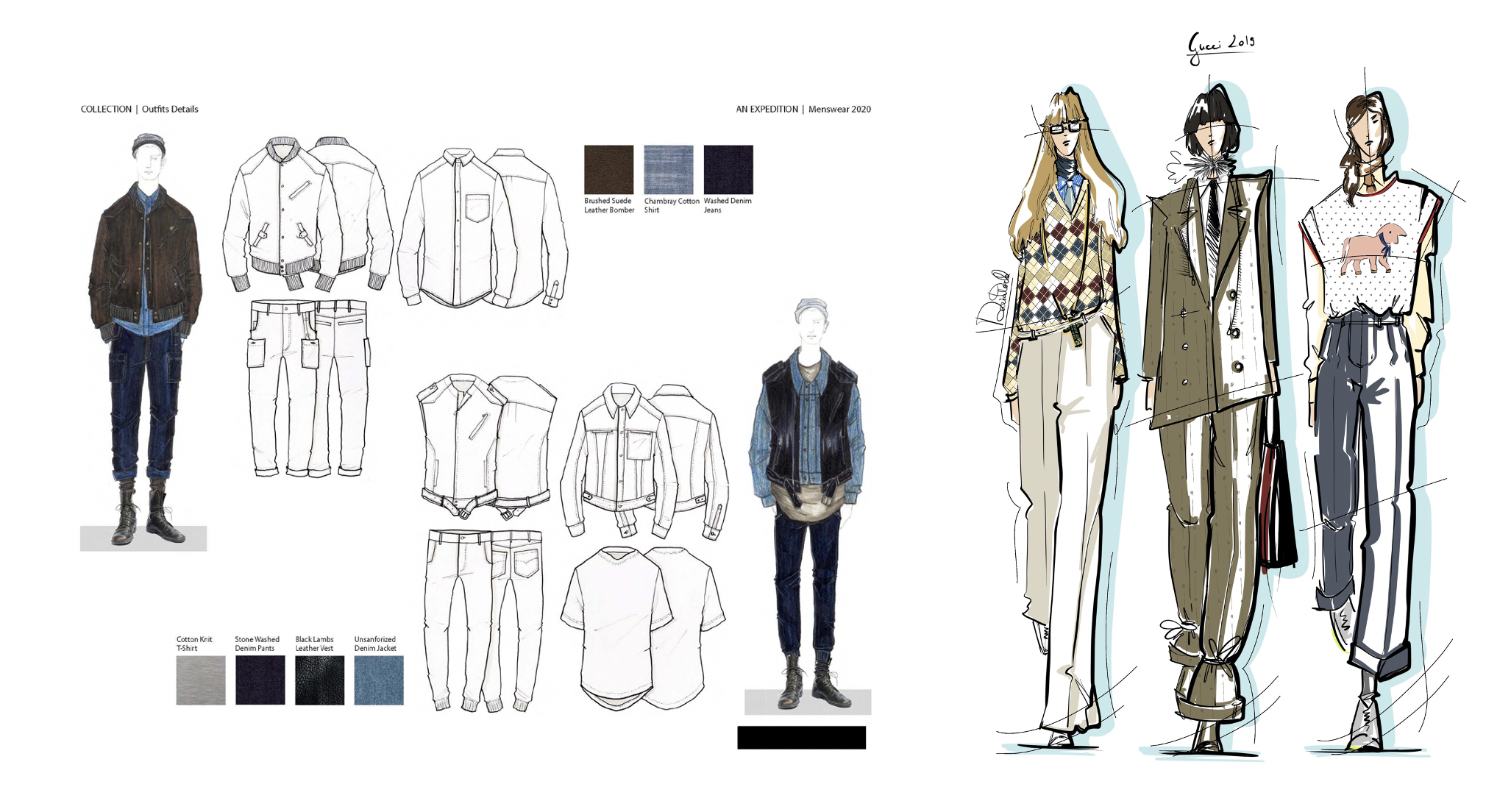 Left image: A very good example of hand drawings combined with Illustrator to show a final collection. Right image: sketches for a luxury brand.
4. Share technical drawings
Technical drawings do not have to be included in your portfolio, however if you're applying for a fast fashion role it's highly advised you do to stand out above other candidates. Technical drawings can be drawn by hand, however it would be better to provide drawings created in Illustrator or InDesign. This is because fast fashion businesses require designers to provide extremely accurate designs to suppliers so they can prepare prototype samples. There's no point providing a simple technical design; show off your best skills by demonstrating you can draw more difficult specifications like coats, trousers, bags or shoes.
Left image: A very good technical sketch drawn by hand. Right image: A technical drawing created with Illustrator.
5. Keep your fashion portfolio to 10 pages long

The length of a fashion designer's portfolio for a job is a question asked a lot. There's no set rule, however it's essential to not include too much. Your Personal Portfolio can be whatever length you like, but make sure you only include your most recent and very best work. A recruiter or potential employer will not be interested in work you did over 10 years ago. Your Specific Portfolio should only be around 10-13 pages long. It should be extremely tailored to the role you're going for and you should cherry pick your top work.
6. Change your portfolio for fast-fashion and luxury design jobs
Whether you're applying for a fast-fashion role with H&M or a job with luxury brand Gucci portfolios will need to follow the same format (as listed above). However, there are some considerable differences when it comes to how you present your work. These differences are:
Creating a portfolio for a fast-fashion brand
Your portfolio must shout 'commercial'. It's important to express your creativity, however commerciality is what fast-fashion companies will be looking for. You need to show that you understand your target customer, the industry, and that your designs can be produced on mass.
Showing your hand drawing skills of final silhouettes will be appreciated, but displaying your final pieces using Illustrator or InDesign holds more importance as you'll be expected to use this software.
Technical drawing skills are also a must. You, the designer, will be providing technical drawings to suppliers to enable them to produce prototype samples, which then go onto mass production.
Creating a portfolio for a luxury brand
Luxury brand portfolios should express tremendous creativity and flair. However, make sure you do still show an understanding of commerciality, as luxury fashion employers will want to visualise how your work will be produced and sold.
Your drawings will need to be beautifully hand drawn and you'll need to clearly show your artistic design process. Inspiration and ideas behind your final designs are central to whether your style and skills can work in-house with a luxury brand. You can show technical drawings, but these aren't essential as luxury businesses will have technical designers to support you in taking your garment from design to production.
7. Have an eye-catching front cover and use colour
There's nothing worse than a portfolio with a blank front cover. Be creative and make your portfolio stand out with a striking front page. You want a recruiter and employer to feel impelled to open it. It's essential your portfolios are full of colour too. Don't try and be creative with black and white tones, colour is what recruiters and businesses want to see.
8. Create a digital or online version of your portfolio
It's quite old fashioned to show your portfolio as a tangible book you can hold in your hand, therefore it's best to create a digital or online book. That said, if you're extremely proud of your offline portfolio, do bring it to your interview to show your potential employer. Just make sure you have a digital version of it too.
9. Don't include photos of mannequins wearing your designs
Photos of mannequins don't look very professional or considered. Show model shots or press shots to reveal your final collections. These look much slicker.
Fill every page in your portfolio too. Blank space doesn't look impressive. Pages that have been thought out will translate much better than pages that have been put together at the last minute.
10. Always include your recent work
Employers won't be interested to know about what you created 10 years ago, they want to know what you can do now. Show your experience from the past two years, anything later than this should be removed unless it's really relevant.
Remember to only send a snapshot of your fashion designer portfolio in the first instance – don't reveal your entire work straight away. Send a shorter version of your portfolio initially, and then if you're invited to the interview you can reveal the full thing. It's good to hold something back as it keeps the interviewer surprised and engaged.
11. Never, ever leave your portfolio behind
Finally, your personal portfolio is your private property. Don't ever leave it behind. An interviewer should respect that and not ask to keep your work. If they do, tell them you'll send a digital version over that includes highlights of your full fashion designer portfolio.

Good fashion portfolio examples
We at Beyond Talent see fashion designer portfolios every day, however as they're the property of our candidates we unfortunately can't show you their work to inspire your own.
Worry not, we've done some behind the scenes research and found some good fashion portfolio examples online. Below you'll find an explanation about why these portfolios will stand out to recruiters and employers.
An eye-catching fashion mood board
We like this mood board as it includes a mixture of hand-drawn inspiration concepts alongside computer generated images. The designer's included a colour palette and clearly explained her vision for her designs.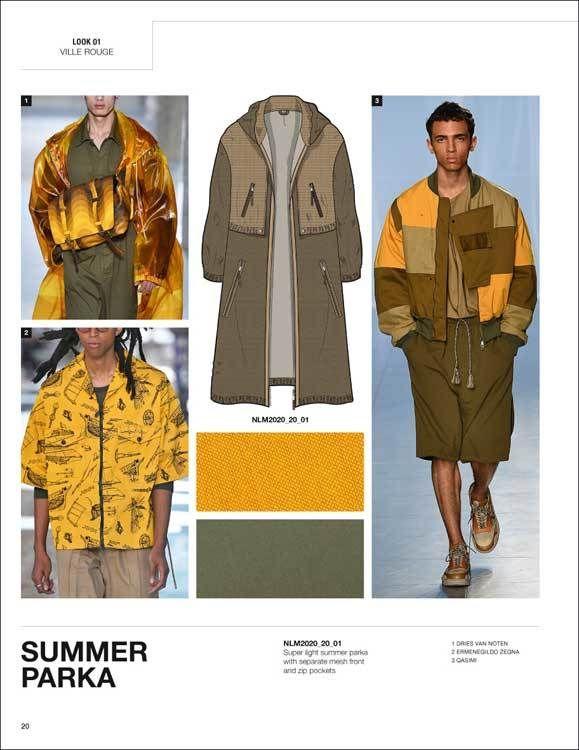 A well-thought out mood board that's aesthetic to look at that includes colour palettes and hand-drawing.
A fashion collection that includes texture
Including colour palettes and fabrics in your final collections is a great way to show how your garments will look. Here's an example of a designer who is showing off their trend research using colour to bring their collection to life.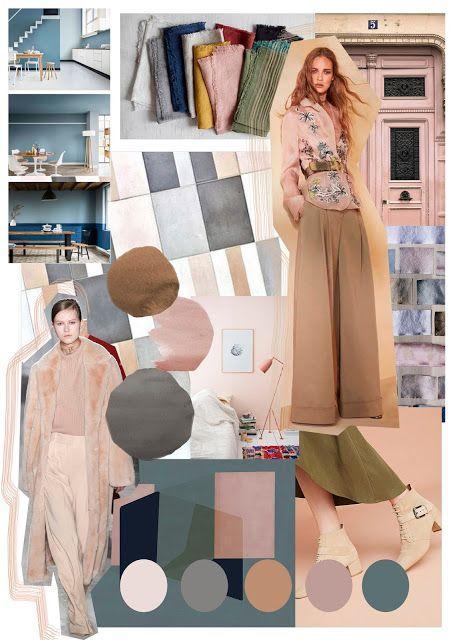 A final collection that demonstrates chosen colour palette and fabrics.
Impressive technical drawings
Fast-fashion companies will be interested to see your technical drawings. Show off your expertise by including a complexed technical specification in your portfolio. Here's an example of a very impressive technical drawing that demonstrates a lot of detail and skill.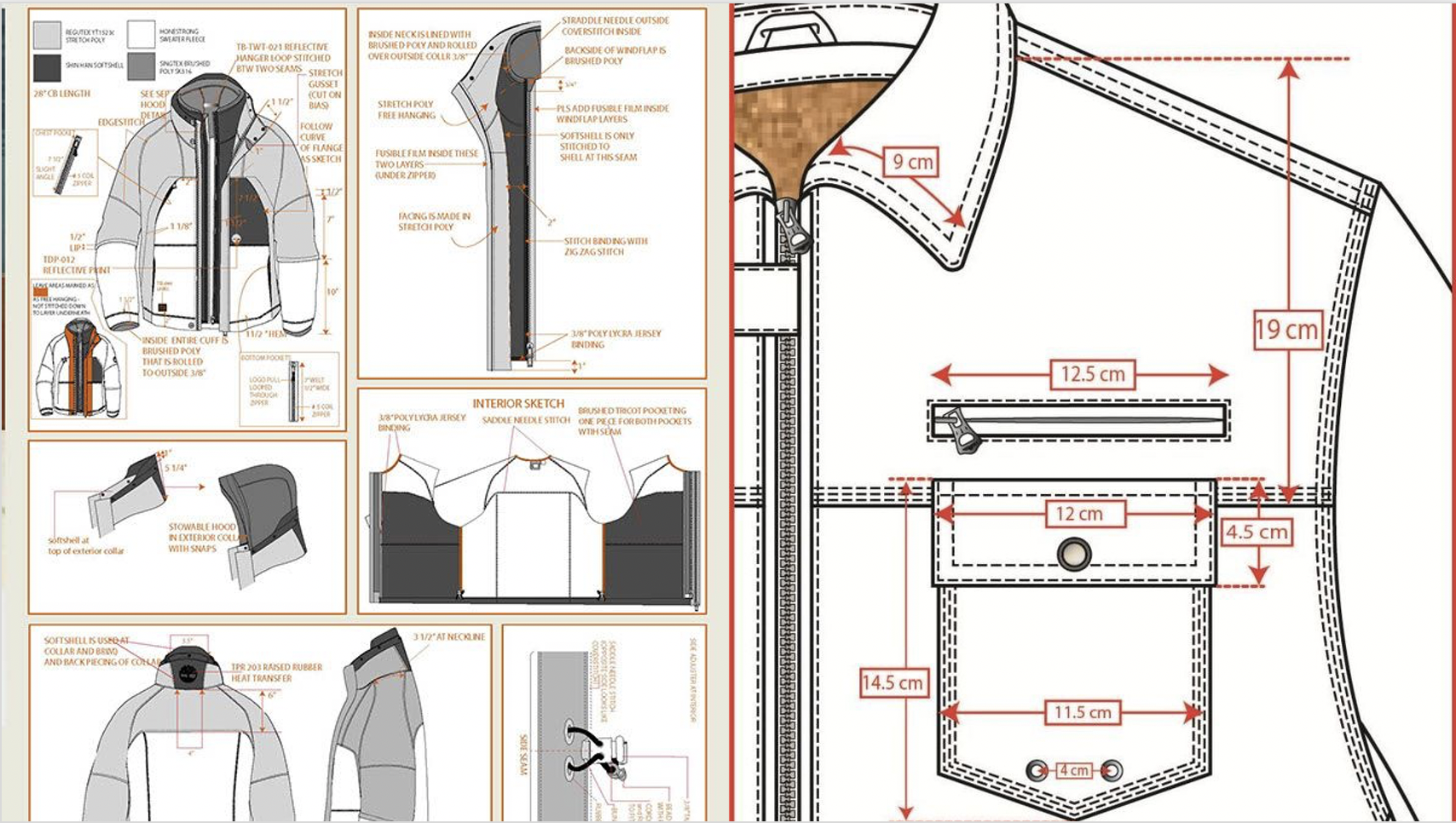 An impressive technical specification showing high-quality drawing skills
Good luck with creating your fashion designer portfolio for your next job. If you want further support get in touch, or you might be interested to read our other job-hunting tips here:



Looking for your next fashion job? Get in touch with our fashion recruiters at Beyond Talent to help you find a new role beyond your expectations.