International fashion designer jobs are on the rise. Over the past six months we've seen an increase in luxury fashion brands looking for international candidates. Why? Because they know fashion designers who've had the opportunity to experience different environments, cultures and skills can bring a lot to the table!
So, if you're a fashion designer considering working abroad, we say "Go for it". Accepting an international fashion job might require you to jump a few hurdles, but the positive benefits it can have on your career will be extremely rewarding.
As specialists in placing candidates in international luxury brand vacancies, we're here to tell you everything you need to know about finding your dream job abroad.
How to become an international fashion designer.
Most fashion designers today need a higher education qualification, such as a foundation degree, HND or BA Hons degree in fashion design – or something similar that teaches you the skills you need to work in the industry. To be a designer in an office abroad is no different. Employers across Europe, US, Asia and the rest of the world, will expect you to have some form of qualification in the field. You will also be required to speak in the language of the country you relocate to and be confident with trading in their currency.
What are the best countries for fashion designer jobs?
The best country to be a fashion designer all depends on the type of job you want. The United States is a great country to have a career in if you're a fast-fashion designer or curious about exploring entrepreneurship within the industry. Whereas, countries such as Italy or France are known as the places to be for luxury fashion. Based on our experience in the industry, here's our top list of countries to have a fashion design career in:
Italy
France
China
US
London
Spain
Australia
Switzerlan


China is the third best place to fulfil a fashion career. Photo credit: Unsplash
How to prepare for working abroad
Working abroad can bring its challenges, but if you start by putting the right preparations in place you can make the entire process smoother and much more rewarding.
Our biggest piece of advice is to find an employer who will help you navigate the moving-abroad-for-work challenges. These employers will have a lot of experience with on-boarding international candidates and therefore have the answers to your questions and solutions for visa-hurdles you might have to jump.
Here's our top tips for preparing to work abroad:
1. Deciding what country you'd like to work in
2. Targeting specific fashion brands
3. Get to know the company culture
4. Visit the country before you go
5. Understanding visa requirements
6. Pay the right taxes
7. Have stable finances
8. Live near colleagues
We recommend narrowing down your ideal-country-to-work-in. This allows you to be targeted in your job search and prevents feeling overwhelmed by the opportunities available. Ideally you'll base your country of choice on a place where you can speak the language. If you can't, we advise getting lessons to at least understand the basic lingo.
Every designer has their own style. So, once you've narrowed your 'countries to work in' bucket-list, do some research on fashion businesses based there. You'll soon discover the brands you'd like to work for. Either contact the businesses directly yourself or get an experienced fashion recruitment agency to do the leg work for you.
Before you commit to any role, get to know the company culture. Working hours and employer cultures vary from country to country – and from business to business. Make sure you understand what will be expected from you each day and what your work life balance will be like ahead of signing on the dotted line.
You may have a vision of what working in Paris will look like, but make sure you've experienced the country and the area your new role will be based before you make the move. It's important you have an understanding about the vibe of the area you'll be living in. You don't want to realise it doesn't suit your lifestyle-desires or personality after your relocation.
Most countries will require you to have a working visa. Make sure you've checked out the requirements before applying for a job. It's crucial you're confident you can obtain a visa, as without this you won't be able to fulfil the role. Want to work in Europe? Here's more information about working in the EU after Brexit.
You still have to file your taxes with the country you've moved from, as well as the country you move to work in. You shouldn't have to pay two lots of taxes, but you will need to fill in some paperwork to make yourself exempt from taxes in your previous location.
It can be tricky getting credit, whether that's for mortgages, a car or credit cards, when you move abroad. Because of this, it's recommended to have good finances behind you, as you may need to fund yourself for a few months while you settle in.
Find out what town some of your colleagues live in and start your vacancy living in this area. You don't have to socialise with them, but it does mean they'll be able to give you tips and information to help you settle in. It'll also give you something in common to talk to your new colleagues about at the beginning. Once you're more settled and know the area better, you can always then move to a location of your choice.
International salary expectations
Some countries will pay better than others. But, you do find salaries are in context with the country's living costs. For example, Luxembourg is known for having the highest average salary with citizens earning an average of £3,500 a month. In comparison, the average salary in Thailand is just £419 a month.
The average pay for a Fashion Designer in the UK is between £42,000 and £73,000 a year. Whereas, the average pay for a Fashion Designer in Italy is between £30,000 and £55,000.
What are the benefits of working abroad?
Working abroad brings many career benefits such as exposure to new cultures, a better living environment, making worldwide connections, and learning a wide variety of new skills. Your native language can also be a strong asset for many international employers, and because of this you'll become a valuable member of the team.
We recently interviewed Chandra Recchi, Burberry's VP of Product & Design, who advocates experiencing the fashion industry from as many different international perspectives as possible. As a born American, Chandra landed her first role in the industry after moving to Umbria. She was approached by the owner of Brand & Melville because they liked her style and she spoke fluent English.
After spending several years as a 'Cool Hunter' for Brand & Melville, Chandra went on to further her career in Europe. Bringing her energetic American roots, she soon found her feet in a community-working-culture in Italy. Chandra credits the cultures and international experiences she's had in her career for helping her become the successful Vice President of Product & Design she is today!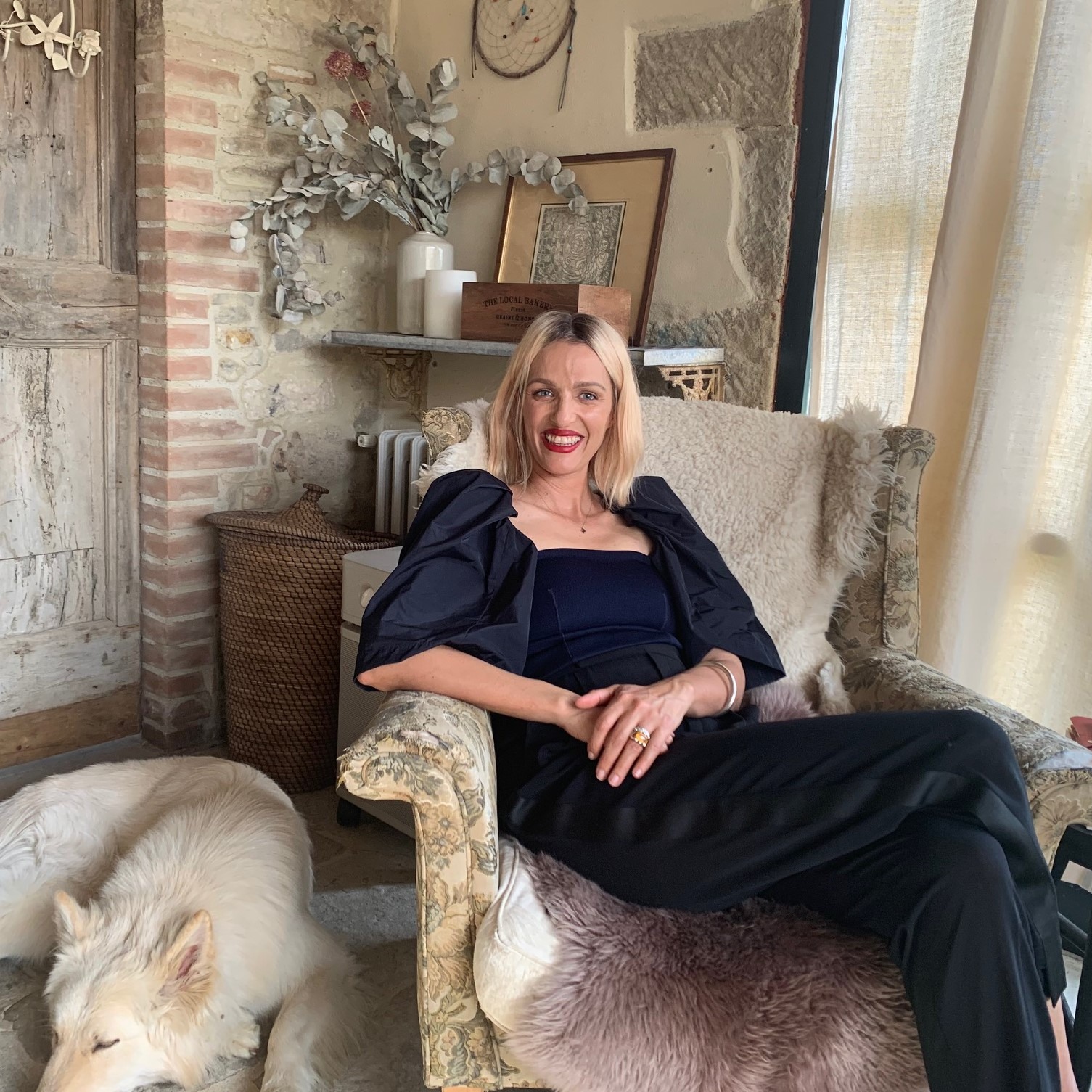 VP of Product & Design, Chandra Recchi, says her international experiences have been great for her career
Fashion design jobs abroad
We at Beyond Talent Recruitment always have international fashion job vacancies that need to be filled. Here are a few of the latest roles.
Please note roles may have closed at the time of reading the article.
Head of Sales, Global Sports Retailer, Switzerland
Searching for a strong Head of Sales, German speaking candidate, who has solid experience working in outdoor categories (RTW predominately), as well as an entrepreneurial and strategic growth mindset. The ideal candidate will be part of a well-known established company. Interested? Email your CV to contact@gobeyondtalent.com.
Design Director Menswear role for a lifestyle company. This is a great opportunity to join an incredible international brand! The role requires a relocation to China. Email your CV to contact@gobeyondtalent.com to find out more.
This prestigious brand is looking to hire a senior Head of Production to be in charge of its ladieswear department. The role requires a relocation to Sweden. Email your CV to contact@gobeyondtalent.com to apply for the role.
Looking for a Product strategist that will be in charge of initiatives across the entire product lifecycle of this global retailer. Experience coming from the lifestyle RTW market is mandatory. Very competitive salary and package. Please send your CV to contact@gobeyondtalent.com.
More frequently asked questions about working abroad:
Before our article comes to an end, here's answers to a few more questions you may have about finding your dream job abroad.
Do I need to speak another language to work abroad?
Yes, speaking the native language of the country you're looking to relocate to is often essential. Even if you're being hired to speak or translate communications in your own native language, you'll need to be able to converse with your colleagues outside of your immediate role.
If you're not bilingual it might be worth seeking a job abroad in a country that speaks the same language as you.
Can I move abroad for work in the pandemic?
Yes, you can move abroad for work during the pandemic. You'll just need to take a few things into consideration such as quarantine, travel and vaccination rules. Make sure you do your research beforehand so you're not caught out and your move is as smooth as possible.
Do all countries offer annual leave?
Yes, more or less all countries offer their employees a minimum annual leave allowance. The amount of annual leave varies from country to country. Cambodia gives the highest amount of annual leave across the world with employees getting 28 days. Japan currently gives the least annual leave of 13 days.
How do I find international fashion designer jobs?
The best way to find your perfect international fashion designer job is to approach a recruiter who specialises in the industry andplacing candidates abroad. Beyond Talent Recruitment has years of experience within the luxury industry filling roles across Europe, US, Australia and Asia.
Read on for more tips to land your next fashion job:

Use our expertise as a top fashion recruitment agency to find your next role or candidate beyond your expectations!