The fashion industry is one of the largest sectors to work in across the world. In the UK alone the fashion industry employs around 555,000 people. This makes the industry one of the most energising to work in, but it also means if you want a job in fashion you need a stellar CV to stand out. Read on to discover Beyond Talent Recruitment's expert advice to secure your next fashion job with these CV tips.

Why you need a good CV for every fashion job
Think of your CV as your business card. It needs to impress and make a potential employer want to keep hold of it. Most fashion recruiters, in fact all recruiters, will skim read a CV in 30 seconds and instantly know whether to dismiss a candidate's application or take time to read the document in more detail. Because of this, it's important your fashion resume makes an immediate impression, and investing time to polish it is central to get the results you want.

Every job role in the fashion industry requires a CV. It's rare to secure your dream role without one - unless you've already worked with someone or you've been headhunted.
Some job roles (such as designers) will also require a portfolio. This is so businesses' can see visual examples of your skills and decide whether your style matches their brand.
Now you know how essential your CV is, let's get you that fashion job you want with our expert CV tips.
CV tips for a job in fashion
When it comes to writing your CV there is essential information an employer will want to understand. This information should be written in the following professional order - using black text - not coloured:
Name and contact details
Profile presentation
Job experience
Qualifications and skills
Interests
Read on to discover more about each of these sections as well as answers to some of the most common asked questions. Remember to take note of the 'what you should and shouldn't include' sections too.

1. Include your full name and contact details
What to include:
Essentials you must include in your CV are your full name (first and surname), landline telephone, mobile number and your email. Other optional contact details are your LinkedIn and Twitter account and a hyperlink or web address to view your portfolio.
Only include your address if you're in commuting distance to the employer you're applying for. Even if you'd consider moving for the job, you don't want an employer put off hiring you if they have questions about your commute.
Profile pictures are optional too. Employers don't expect to see a profile picture on a CV and sometimes an image can do more harm than good. However, if you want to include a picture make sure you consider elements such as the background, what you're wearing, and the lighting. You want your picture to be professional - not Instagram worthy.
What to avoid:
Don't share your date of birth, marital status or whether you're a parent. You want to keep your CV as neutral as possible so employers' are not influenced by any factors other than your professional experience.

Social media details for your Instagram or Facebook accounts should be avoided too. They're not professional and not appropriate for new employers to see. However, if you're managing a social media page as part of your role, go ahead and include this to showcase your work.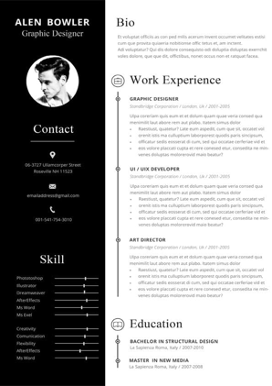 This picture works for a creative role, not an executive role Image - My CV Store
2. Write a profile presentation
What to include:
The top section of your fashion resume is what a potential employer will read first. Therefore, it's important to impress straight away with a stand-out elevator pitch about yourself.
Write here about the type of person you are (i.e. driven, high-attention to detail), include information about your strengths and highlight two top achievements from your career.
What to avoid:
Don't make this section too long or too personal. Keep it professional. Also avoid talking about yourself in third person, use "I" and not "Daniel did…"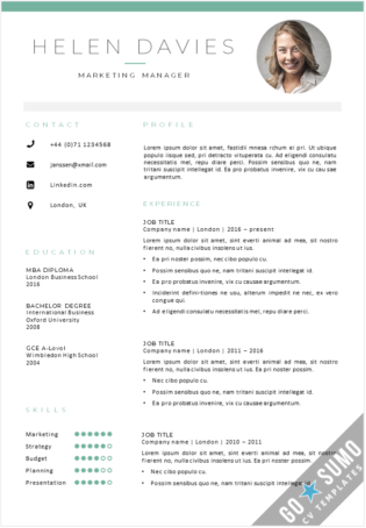 A good PROFILE presentation example. Succinct and to the point. Image - Go Sumo
3. Describe your job experience
What to include:
When it comes to writing about your experience it's vital you talk about your most recent job in fashion first - not last! Then, depending on how many other roles you've had in your career, include a maximum of three job experiences underneath (starting with the most current dates working down to the oldest).
Start each job experience section with your job title, name of the company, the city and country location, and your start date. All of this information needs to be written in capital letters and a bold font (see image example).
Underneath write about your achievements using bullet points. If necessary you can use short sentences to share more detail.
Always use figures to validate your writing as this gives potential employers a better understanding of your experience. For example, if you're a Buyer share generic (but not confidential) data about your department's turnover, the category you specialise in and where your suppliers are based. Don't be afraid to be specific here!
What to avoid:
Don't copy and paste your LinkedIn profile. Your CV is more descriptive and professional, and requires a very different approach. Impress employers by writing about your successes, the volume of stock you control or the design area you excel in - not your job specifications.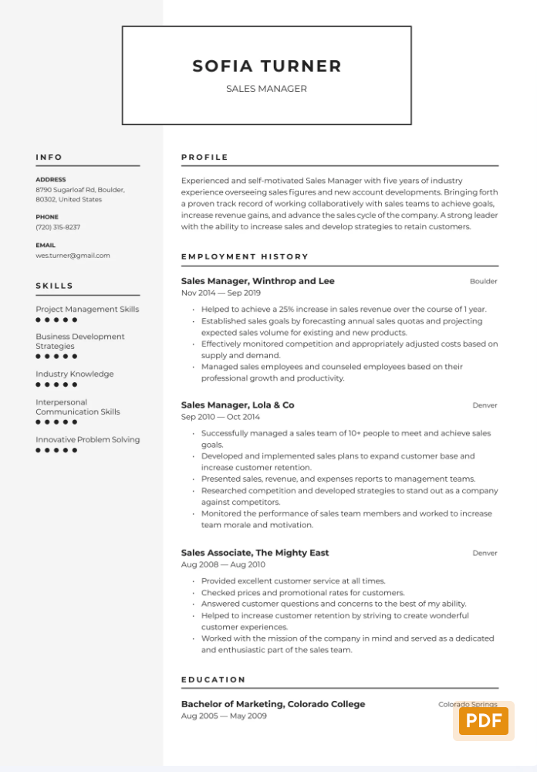 Include your CURRENT job at the top. Don't use this example for the Skills section. Image - Go Sumo
4. List your qualifications and skills
What to include:
It's important to list qualifications and certificates that are fundamental for your new job role. Employers will always consider what exams you have achieved and what skills you have learnt since.
Many employers will search for candidates that can speak other languages, so remember to include this information and the level of your skill. For example, do you speak native, fluent, highly proficient, good working knowledge or a basic level? Don't however follow the Europass CV format if you're applying to jobs overseas. This format is dated and doesn't work well for fashion industry roles.
You will create a much more professional CV following Beyond Talent's recommended format. Make sure you include other skills here too, such as software you're trained in. Perhaps you're an expert in using Adobe Illustrator or Photoshop?
What to avoid:
Don't use tables, charts or graphics to explain your qualifications and level of skills (see image). These make CVs really difficult to decode and employers will push them to one side if they can't fully understand your information. Stick to words!
The Europass CV format is very bad for tables and charts, which is why it's recommended to steer clear of this service - especially for the fashion industry.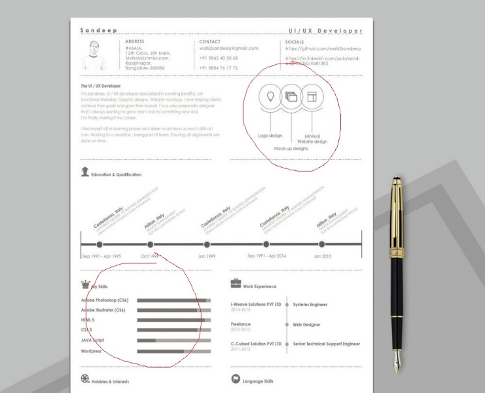 5. Talk briefly about interests
What to include:
This area is optional, you don't have to include anything here if you don't want to. However, if you would like to share your interests make sure they're not too personal and mirror the brand you'd like to work for or fashion jobs you want. For example, if I'm applying for a job with Patagonia "I enjoy mountain biking" would be much more suitably matched than "I like to bake cakes".
What to avoid:
Don't go into too much detail here. One sentence or a couple of bullet points is enough. And remember, your aim is to secure a job, so keep it professional.
6. Don't worry about references
What to include:
Including reference details at the bottom of your CV is now a thing of the past. It's better to simply write "references available upon request". Fashion companies should only speak with references once they are considering you as a candidate, therefore if they want more information, they'll ask you.
What to avoid:
Don't share too much information here by listing lots of names and contact details. It's much safer to leave these off so you don't breach any GDPR rules.
7. CV's should be a maximum of 2 pages long

There are no set rules when it comes to the length of a CV, however, remember your potential employer will probably have a lot of other resumes to peruse. Because of this, it's recommended to keep your CV to a maximum of two pages long. You want your potential employer to read your entire document and not lose interest.
8. Keep your font simple
Working in a creative industry means many of us will want our CV to look original. While this shouldn't be completely dismissed, your CV isn't the place to use an italic font to look attractive or a typewriter font to look hip.
Arial and Times New Roman on your CV can give a dull impression, however fonts such as Garamond look professional while maintaining some originality.
9. Use bold headings and bullet points
A CV or resume with a stream of words on a page will be impossible to read.
Separate each piece of information with a bold heading and it'll make your CV have more readability. Where possible, use bullet points too. Bullet points make us write with less words and helps us share information more succinctly.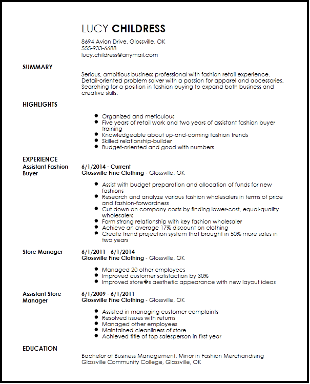 Bold text and bullet points make CVs easy to read Image - Resume Now
10. Use natural language
Michelle Lee, Editor-in-chief at Allure, recently confirmed using "flowery language in a CV only makes it sound phony". You might want to impress new employers' by using long, descriptive words, however the truth is there's no time to decode this writing style. Using simple and easy to read language, avoiding corporate jargon, is always best.
11. Proofread two times
The top mistake people make on their CV is spelling errors. You want your potential employer to think you take pride in your work, therefore it's crucial your CV is grammatically correct.
To ensure you send a perfect resume always follow the 'proofread twice' rule. After you've written your CV, step away from it and revisit it later with a fresh perspective. If there are errors, make the appropriate amends. Step away from your CV one more time, and then when you come back to your document make final edits before you press the 'send' button.
If your English isn't very good using a translator to write or edit your CV is highly recommended. Websites such as Grammarly are also helpful free tools to use when checking your copy.
12. Don't go overboard on the design
Finally, while a highlight of colour might make your CV stand out, too many colours and graphics will make your information very difficult to read (see image). It's advised to think about the brand you're applying to, and then think about the type of CV design that would appeal to them.
Platforms such as Pinterest can be used to inspire your fashion CV design. However, there are ample online companies that can be used to design you a professional CV.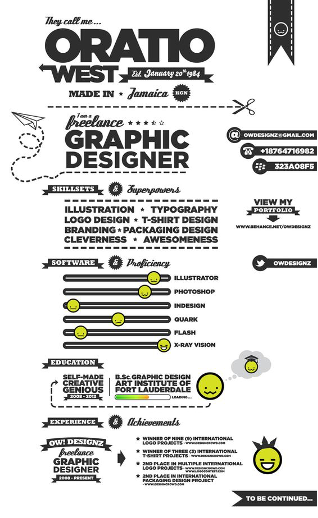 Example of a CV structure to avoid.
Top CV templates and examples for a fashion job
The Resume Boutique on Etsy.
If you want a professional yet creative looking CV,The Resume Boutique has a collection of glossy CVs starting from £10.
Canva.
Canva is a popular design website that offers over 1,000 free resume templates. If you want to customise your CV template you'll need to subscribe to Canva Pro which is around £7 a month.
My Perfect CV.
The designs on My Perfect CV aren't as elegant as others, however they're professional and work well for executive roles.
CV designr.
Another free online CV design service, CVdesignr allows you to choose your template, upload your information and download your new CV design. The designs are decorative, yet still professional.
Going for a fashion job and found our CV tips helpful? Here are more articles that might be of interest:
Are you considering your next career in the fashion?
Get in touch with our Beyond Talent recruiters to help you find a new role beyond your expectations.