After two years of being stuck inside and missing out on social events, who isn't ready to enjoy the summer? With fewer restrictions and less stress, people are finally feeling free to have fun and express themselves again. And this sentiment is evident in this summer's fashion trends, which are about personality, positivity and being true to yourself.
Whether you want to express your feminine side or emphasise androgyny, or show lots of skin or be modest, there's something for everyone this summer. What's in is statement-making confidence and daring expression.
The top fashion trends for summer 2022
The most prominent summer fashion trends this year centre on beach- and athletic-inspired comfort, romantic femininity, retro vibes and body positivity.
Comfort with personality
One of the hottest trends this summer is comfort-inspired outfits. Perhaps we're all used to lounging at home so much that we can't leave our baggy sweatpants behind, but comfort can be stylish too.
Baggy denim jeans, flowy maxi dresses, and bright button-downs are all fashionable summer outfits for 2022. Oversized shirts and blazers with wide sleeves are also popular, making appearances on runways for designers such as Chanel, Prada, Givenchy and others.
Varsity and athletic-inspired styles have also been spotted all over, from Stella McCartney to Loewe to Rick Owens. Think bomber jackets, windbreakers, pleated miniskirts, V-neck knits and cardigans. Noteworthy collaborations between luxury and streetwear brands, such as Gucci with Adidas and Burberry with Supreme are also influencing this trend.
Surf and coastal inspiration
Related to comfort is the carefree fun of surf style. Camp shirts, casual shorts, hibiscus prints and bucket hats are perfect for evoking a nostalgic summertime vibe. Perhaps Gen Z's fixation on Y2K and the need to remember easier times are driving this summer's surf and poolside outfit styles. Whatever it is, we're loving the cheerful, sunny feel from this trend.
This fashion also falls in line with retro and Y2K fashion items popping up, especially among Gen Z groups. Crochet bikinis, psychedelic prints and cardigans with jean shorts are all retro beach styles we can get behind.
Romance and femininity
If oversized or sporty looks aren't for you, you might be happy to know that one of this summer's top fashion trends is all things dramatic and romantic. Ruches, puffy sleeves and flowy, draped fabrics are reigning supreme this season, perhaps because of the obsession with Bridgerton and the regencycore aesthetic.
Rather than arousing beachy nostalgia, these feminine details bring with them a sense of tradition and passion. And what's not to love about the decadence of chiffon, velvet, satin, tulle and lace? If this is your style, then Louis Vuitton's spring/summer collection will give you all the inspiration you need to create your own romantic summer outfits.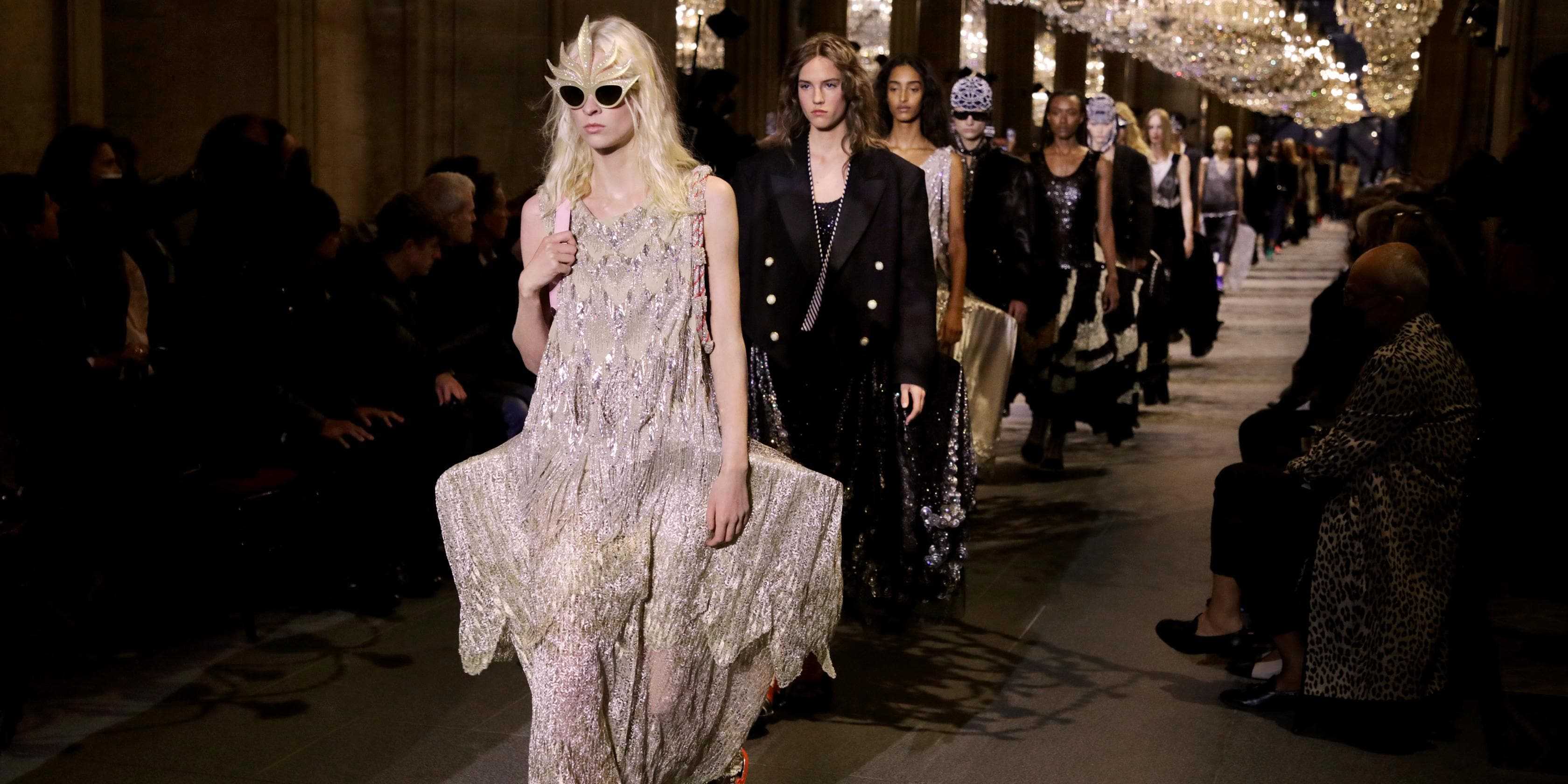 See-through sexy
Prefer sexy to romantic? Showing skin is one of the most ubiquitous trends for this summer. Whether you want to show a little or a lot, you can't go wrong with netting, sheer fabric, mesh and cut-outs. These trends have all been heavily donned on the runway recently in dresses, tops, trousers and swimsuits.
You can wear netting and sheer fabrics in one layer to show off everything or wear multiple layers for a more modest effect. And the same goes for cut-outs. You can be risqué and let lots of skin show through, or you can pair cut-outs with a tasteful, colourful bra or bralette.
Another great combination of fashion trends for this summer is bikini or bra tops underneath oversized blazers. This look is perfect for the beach or a night on the town, and don't think it's only for models and celebrities. This versatile look is one of our favourites because it can look good on everyone and be right for any occasion.
Retro fashion trends
For this summer, retro-inspired fashion trends from several different periods are popular. 50s gingham, 60s and 70s crochet and tie dye, 80s stripes, 90s crop tops, 00s butterflies – they're all fair game. Just as regencycore evokes a sense of another time, trends from several other decades are making appearances. Now's the time to dig through your parents' and even grandparents' closets and see what outfits you can repurpose.
Two of the hottest retro trends are the micro miniskirt and fringe. And we mean lots of fringe – fringe on jackets and skirts and long fringe and short fringe. Top designers such as Dior, Burberry and Fendi have incorporated fringe into their designs, so it's a great time to get on board with this fun, expressive detail.
A more controversial trend is the resurgence of Y2K fashion. General 00s fashion trends, such as low-rise and wide-leg trousers, have been here to stay for a while, but other Y2K trends are popping up as well. Bubble-gum pink, denim, butterfly patterns and accessories and belly chains are becoming popular again, especially among the Gen Z crowd.
Body positivity
Health and inclusivity have become major priorities in the fashion industry. Fashion brands have begun to highlight not only employee health but also consumer wellness. As the fashion industry redefines itself for people of all shapes, sizes and colours, and for all genders and non-binary people, the main message reaching people is that they should feel comfortable to be themselves.
This influence of this development of fashion trends can also be seen in the body positivity movement. Rihanna is known for setting fashion trends and pushing boundaries, and it's no different now that she's pregnant. Her maternity style is showing that there's no need for ill-fitting, modest maternity clothes. She's wearing what she wants, just as she's always done, and she looks amazing. She's sported bra and lace-up tops, sheer tulle dresses, jewellery to adorn her baby bump and ultra low-rise trousers. She's sending the message that all people, including pregnant women, can follow their style and express their personalities, no matter their size or shape.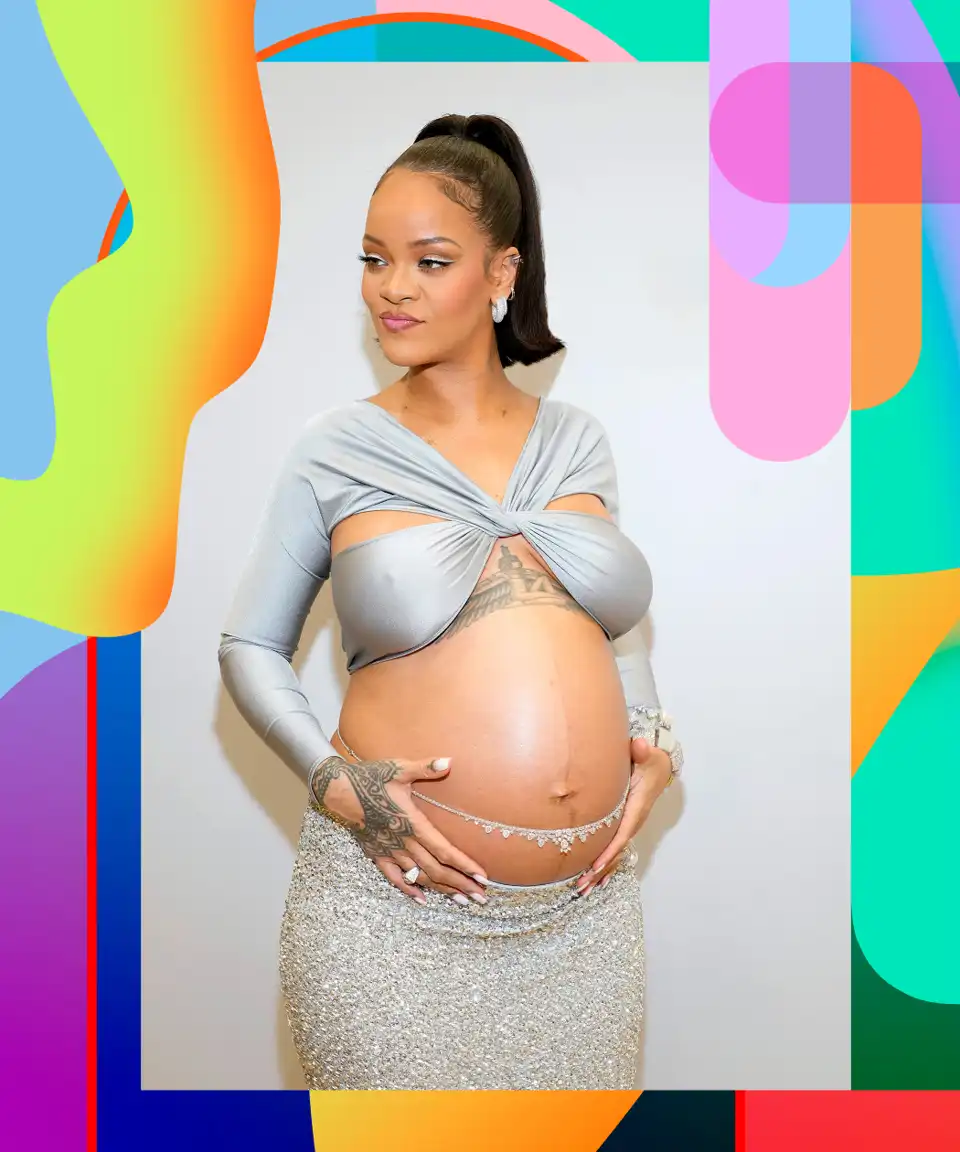 2022 summer colour trends
This summer trends include bright, vivid colours and dramatic prints.
Bright colours
You've probably already noticed that bright colours are making a comeback. This retro fashion trend is bringing back 80s glam with 90s neons and 00s pinks. Lime green, hot pink, violet, lavender and neon yellow, mixed with silver or gold accessories are the way to go this summer. On the flip side, bold cream and all-white suits and coordinates are also trending.
Metallic shine
The drama and fun of this summer's fashion trends can be seen in the metallic fabrics appearing in designs by all the major brands. Whether in tops, dresses or full suits, sheen is one of the hottest ways to express your personality. This is a good way to let yourself shine without sequins and glitter that often damage the environment.
Fun retro prints
Another retro-inspired fashion trend is playful prints full of personality. Polka dots, animal prints, stripes, florals, plaid and tie dye have all been appearing on the runway. Of these prints, beachy feminine florals and stripes in every way – whether horizontal, vertical, classic, big or small – seem to be dominating this season.
Matching sets
Another summer colour trend is about coordinates. When it comes to prints and colours, matching is in. Monochromatic coordinates and matching sets, whether for business suits, swim cover ups or shorts and blazer sets, are going to be everywhere, so don't be afraid to pair tops and bottoms with the same colour or bold pattern.
Fashionable summer outfit ideas
So how do these fashion trends translate into outfit choices? This summer is all about self-expression and confidence, so mix your favourite trends to show off your personality and style.
Playful party options
Summer is usually full of celebrations. Weddings, graduations and holidays
often happen in the summer, so it's a great time to dress up and show off.
One romantic classic that's in is Norma Kamali's Diana dress. This playful, flattering dress works on many body types and is comfortable and timeless. No wonder it stays in style! It looks great in bright colours and is a perfect party outfit for summer 2022.
Miniskirts and ultrashort party dresses with cut-outs and sheer details are also in. For for a more casual event, you can pair a puffy-sleeve blouse or crop top with a pencil skirt. Or, channel the retro and feminine fashion trends by donning a striped or floral maxi dress with strappy sandals and a chunky bag.
Carefree and casual fashion
For days at the beach and poolside afternoons, comfort is king in summer fashion this year. Feel relaxed by wearing a white tank top and baggy jeans or crochet knit crop top with printed or bright wide-leg trousers. Striped linen sets and shorts with tunics or button-downs, paired with espadrilles, are also a great choice to show off your casual style this summer. If athletic comfort is your style, try an oversized track jacket or the more athletic side of surf style.
Swimwear
This summer, string bikinis, crocheted tops and bottoms, and one-piece swimsuits with cut-outs are some of the best swimwear trends. To be exude retro comfort and follow this summer's fashion trends, combine one of these swimsuits with netting, an oversized or matching cover-up or jean shorts and a cardigan.
Accessories
Taking inspiration from the casual, coastal vibe and some romantic, retro details, accessory fashion trends this summer include crocheted or raffia hats, shell necklaces, woven bags, wrap sandals and espadrilles, pearls and bucket hats. Beaded bags and jewellery are also trending, along with chunky, oversized bags.
For more of a glam party vibe, chain belts, platform shoes, chunky gold chokers and statement earrings in silver or gold are good choices.
Rather than following summer fashion trends for the sake of being stylish, what's in this summer is confidence and being yourself. And it seems that this trend is going to be around for a long time. Whether you choose bold fringe, bright colours, feminine whimsy or oversized comfort, this summer season is a time to express yourself and have fun.

Looking for specialised information about specific fashion topics? Check out these articles:
Men's luxury brands: https://beyondtalentrecruitment.com/blog/european-luxury-menswear-brands
Online secondhand fashion: https://beyondtalentrecruitment.com/blog/best-online-resale-clothing-sites
Socially responsible fashion: https://beyondtalentrecruitment.com/blog/socially-responsible-fashion-companies