"The best way to predict the future is to create it", said Peter Drucker. Even in the most challenging situations, there are always entrepreneurs and creative minds willing to follow their dreams even if the road doesn't look easy.
As we enter in the age of data, fashion companies face the need of mastering this new field of expertise by predicting consumer needs in a very short period of time to be more sustainable and efficient.
Today in Beyond Talks, we're going to meet Julie Evans, a great entrepreneur, founder and CEO of Sustalytics. After more than 10 years of working as a Head Buyer, Julie decided to follow her dreams and join other women CEOs in fashion by creating her own company.

How to become a CEO of a fashion company

BT: Let's go back to the beginning, you have such an interesting career. You studied Business Management and then switched to fashion to start a career as a Buyer. What did you learn from this experience and how did it contribute to your current entrepreneurship?
JE: My first dream was to work for Zara, I even studied the brand at University – and that's where I learnt the most. At Zara they teach you how product is key and that you need to adapt the product to consumer demand. To do that, the truth is that Inditex is not magical, they don't produce products in 3 weeks – it's just organised in a way so that you can react. We tested in store, we kept greige fabric ready to dye so we could see the sales first, then we'd move the collection around to meet what the data was telling us. Yet, technology was never a part of it. I worked for other companies too and it was the same story. The same old methodologies and the same inventory challenges.
BT: When was the moment you realised you wanted leave the security of your job and become an entrepreneur and a CEO of your own company?
JE: I founded Sustalytics because it was the solution I dreamt of having when working as a Buyer.
Fashion professionals actually have a really tough job: design the best, produce a nice product, distribute it in the right places etc. I remember when I started, a senior buyer taught me "No matter what you do, you will always get it wrong- either you bought too much, either you didn't buy enough."
One thing I was sure of, is that at the end of the story it's the consumer who decides. I used to always think - why don't we use technology to communicate with them beforehand?
Founding a technology company is definitely a big challenge. I'll be honest with you, I do miss the security, the status and above all the comfort of doing well in a job in which I have a decade of experience in. However, this is also why I thought it was the right time - I wasn't being challenged anymore. I'd been doing the same job for a decade and I started wondering if I was bringing anything more to the table.
A day in the life of a female CEO in fashion
BT: Tell us about Sustalytics, how would you describe your company to a potential client?
JE: Don't rely only on past sales data and trends, Sustalytics will be able to predict for you what consumers are more likely to buy. Fashion businesses can upload their product designs onto the Sustalytics platform and instantly find out what consumers think of them in a snap. Much quicker than sifting through a load of old data and analysing it all.
BT: Why do you think it's so important for companies to have a system that can predict the customer needs? What are the real benefits of your solution?
JE: In 1 sentence: Waste less and profit more.
Design what consumers will fall in love with and produce only what is worth producing. Do it not just for the financial benefit – which is obviously huge - but also for your brand image. Nowadays consumers are demanding for more concrete sustainable actions. Sustalytics is such an easy step for any brand: show you value your consumers' voice before producing.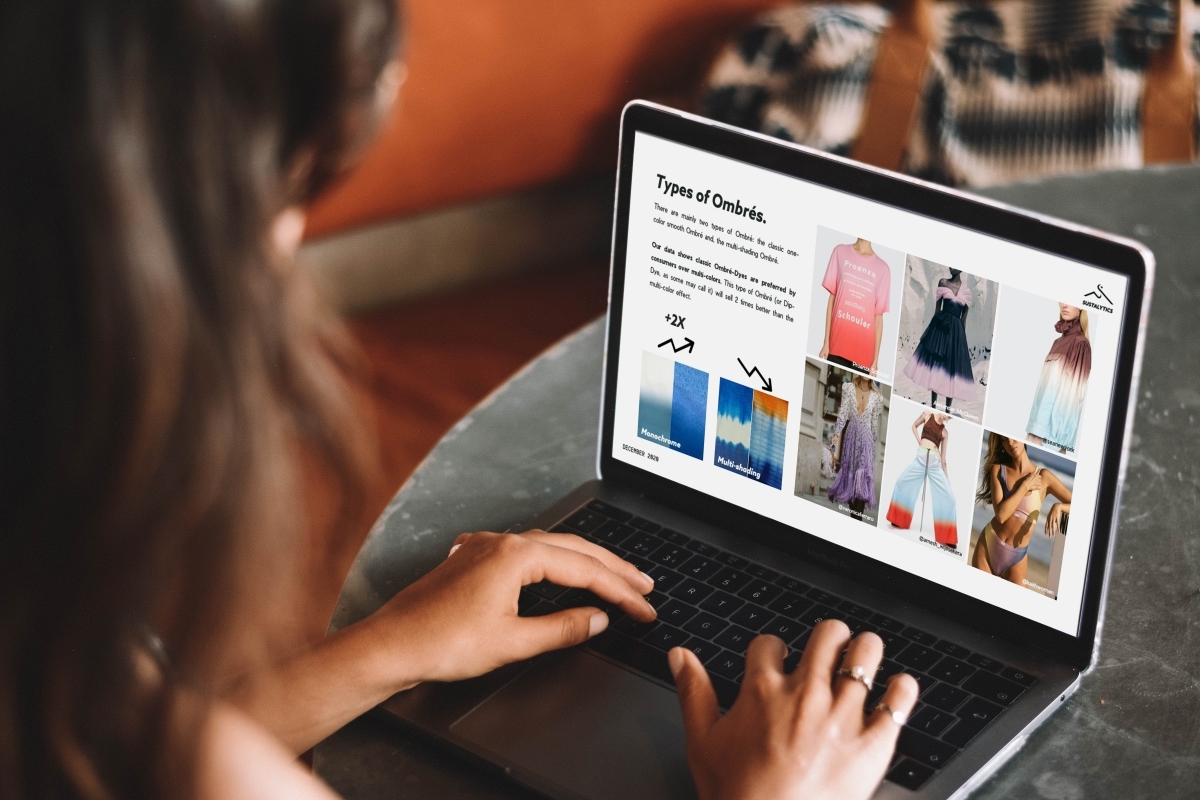 BT: Tell us about your workspace. As an entrepreneur, a CEO and in female leadership, what is it that motivates and drives you? What are your non-negotiables?
JE: My key driver is the Sustalytics team – not only they are passionate, but they're also incredibly talented people. The cherry on top of the cake is that we share the same goal, the same vision and the same values. Sometimes I stop and think about it – it's not a non-negotiable because it happened naturally but I am definitely extremely thankful for the opportunity of working with each of them.
BT: We've seen a great shift in how businesses are managed due to the pandemic. What are the pros and cons of the recent changes? What are the challenges and benefits of being a Chief Executive of a company?
JE: For us, working remotely has always been the "normal" thing to do. Our clients and collaborators are in Europe, US and Latam so it doesn't really matter where you are.
The key advantage is that if you have no border the pool of people to work with is the entire world! It took a pandemic for it to happen, but I am glad corporations now get to experience what the new generations had already started.
How hard is it to become a female CEO?
BT: Let's be honest, being a business owner isn't easy. There are moments of real pressure and then moments of difficulties, especially at the beginning. How did you overcome that and what advice would you give others in your situation?
JE: When I think back of the very beginning, I can't believe it – I remember my first call with a data scientist – I felt like this image of a dog typing on the computer! I remember it so vividly it nearly makes me sweat again just thinking of this meeting. Trying to be a female in a CEO role in the fashion industry isn't easy. Female representation and female leaders at this level are minimal. But you know what? In every step, in every challenge I face I try and I learn. Sometimes I work it out and sometimes I don't. One thing for sure – I always do better the next time.
BT: Would you do anything different if you had to start all over again?
JE: I would've networked from the beginning. People are key. You will always learn from connecting with people and they are the way forward.
Tips for up and coming women CEOs in the fashion industry
BT: What advice do you have for professionals in their current role hoping to grow a successful company? What are the key elements for starting and running a business in the fashion retail industry?
JE: They say feedback is a gift – this sounds cheesy but honestly listening is the key. You will then ensure that you're answering to a real need.
We recently launched the first ever consumer data-backed trend reports. We understood our clients also needed inspiration, and most importantly they want more than just trends. They want clear directions on what will actually sell. If we hadn't listened to our clients then we would never have been driven to develop these reports.
BT: Are there any specific client success stories you'd like to tell us?
JE: We've had the chance to collaborate with such amazing brands. From Galeries Lafayette to Havaianas, Arena, Tally Weijl and even with a very famous jeans brands who I cannot name - but we all have that brand in our wardrobe!
However, I think the success story I'd like to share is our very first one – Esquisse Lingerie. This is a French sustainable lingerie brand, who has amazing products. I'm fond of this success story because it was the first time we measured the real impact of Sustalytics.
We tested styles that the brand already had sales data on. We gave our predictions, compared and we measured. Not only did we predict the best and worst sellers, but we proved we could make the brand save money and save resources. We knew we were sitting on what could be a turning point for fashion. That's when we launched the company.
BT: Where do you see your company in five years' time? How different will buying clothes be in five years from now compared with today?
JE: Consulting consumers before will be the new "normal" – we'll even think how weird and illogical it was that we didn't before!
BT: What advice would you give to fashion professionals that are still looking for the right opportunity to become an Executive Director or CEO?
JE: You only fail when you don't try.
Did you enjoy reading our Beyond Talks shining a spotlight on women CEOs in fashion? You might also be interested to read these:

Looking for a fashion recruitment agency to help you find you a CEO job?
Get in touch to discover a career beyond your expectations.