Today we talk to professional Fashion Art Director, Gary Bradnick, about the importance of storytelling to express a brand's values and vision in order to attract and engage customers.
Over the past ten years, Gary has had in-house and agency Art Director jobs supporting luxury fashion, lifestyle and beauty clients to tell their story in a way that connects and resonates with the world. Read on to discover more about the profession and whether an Art Director career is for you.
BT: Can you describe in a few words what a job as a Fashion Art Director entails?
GB: An Art Director has the privileged position of living out their imaginations.
They play an important role in developing a brands vision, from aesthetic to tone of voice
for both digital and print roll-outs. They have the power to sway a brands image from one,
to another.
BT: What kind of education, knowledge and training does it take to land an Art Director job in the fashion industry?
GB: I believe that there is no clear path to be an Art Director — in fact it's better if there isn't.
I had a wide range of experience before you would've considered me on the path towards
becoming an Art Director, but from each I still learned a ton.

In regard my years as a fork-lift driver, bike mechanic and club-night organiser during studies as an 18-22 year old as highly as my time on-set at a shoots and designing layouts for print and digital. Not only did that work give me a multi-tiered ability to communicate on various levels and connect with all types of people, but it has also filtered into some of my personal work and perhaps more importantly has made me the grounded individual that I believe I am.

I like to say that the mix of work that led me here gave me the different angle that I understand luxury fashion from: one that truly understands the value of its aspirational magnetism.
When it comes to what knowledge is necessary for the job, it's my belief that it's as
important to be culturally aware - from the arts through to politics and cultural diversity - as
it is important to be aware of the details within design and fashion image as an aesthetic.

I think that if you are a culturally aware Art Director – from arts through to politics and ethnics – you will have the ability to review everything you do in such minute detail that you'll be able to make a real difference.
Of course training helps with the practical side of the job in regards to all the various
software we utilise in order to construct, develop and finalise our ideas which is why I'm so
grateful for my time at Central Saint Martins. You need to be a master of every technical
skill and be the first to hop onto any updates or changes in software trends, or you will fall
behind.
BT: Do you remember the moment when you decided to become an Art Director? Tell us also what aspects you like about the job and what aspects you consider difficult.

GB: There was no pivotal moment when I realised I wanted to be an Art Director, it was more a merging of various past experiences in different roles that it became clear that is what the industry calls and what I was already was doing: Art Direction.

When I look back at that naivety I can only but smile. By the time I went to work with the Creative Director Christopher Simmonds, I had realised every skill I had picked up over time had added up to what I consider necessary to truly label yourself an Art Director: the ability to be versatile but also the instinct to step back and notice when you can let masters of their individual disciplines lead. Whether that be film directors, photographers or stylists, there needs to be trust. After all, you hired them!
That is actually one of my favourite parts about this job. The people you meet, and the creative friendships you forge. It's what glues me to a project and makes the most difficult part of the job knowing when to stop working on something — because often you're just truly enjoying the process.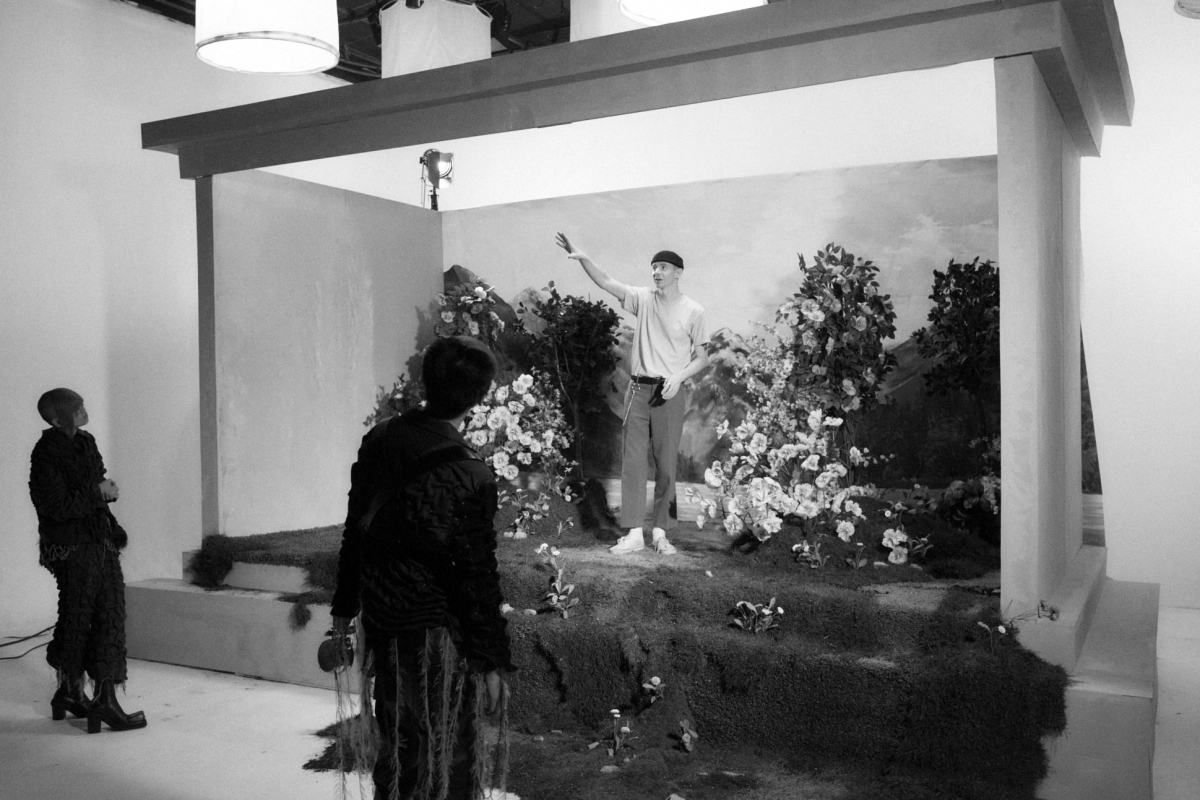 Gary during the preparation of one of its videos shooting set.
BT: We'd love to find out more about how an Art Director creates video content for a campaign. How do you come up with the ideas that you then decide to execute?
GB: You need to be a natural consumer of information to be an Art Director.
What started for me as an interest in Hollywood and pop music videos when I was young has progressed into a range of information, I spend time consuming that includes the worlds of art and fashion, underground music and subcultures, cosmology and astro-physics. It is only when you have a bank of information, memories and inspirations can you truly begin conceptualising a fashion film and ideas come naturally. The depth of your research and how to use it creatively in an original way provides the back-bone to any good fashion film.
A creative deck comes from a lifetime full of references.
We use the document to funnel ideas in a controlled manner for our peers or clients but it becomes your baby as you spend time nurturing and tweaking all of the references you've become close to. There's a gut feeling you get when you have the right blend of references, ideas and possible executions and the best part is seeing it signed off — then you're off to make it happen.
BT: Is there a specific campaign that you are especially proud of?
GB: My parents would say it was the times where I have appeared as an extra in a couple of Gucci campaigns!
One of those was for the Gucci timepiece campaign shot by Ari Marcopoulos that was based around a fictional political rally where I can be spotted frantically clapping in the crowds, the other was my hand! Pulling out a newspaper from a magazine stand for the FW19 Gucci campaign, shot by Glen Luchford. A truly memorable moment to have played a part in that campaign and see the work we do from another side.

I can only go on to thank Christopher Simmonds to give me the chance to be a part of a campaign from start to finish and with that every possible angle of being surrounded by such talented people to learn from. A far cry from weeding plant pots aged 16 at my local garden centre.
BT: In the past four years, there have been a lot of changes to how fashion and beauty brands are using digital and ecommerce marketing. What do you think are the main challenges companies' are facing? And, what do Art Directors' need to focus on in order to remain competitive?
GB: Now is not the time to be against change, or to accept it and be slow at making amends. Companies that were originally reluctant to shift to digital techniques are now either being left on the pile of fashion 'has-beens' or are desperately trying to change their marketing models, which is causing a disorganised mess within their business.
Covid-19 has, and still is, dramatically changing the fashion industry. The future of fashion jobs after the pandemic will change how we work forever. How brands utilise campaigns and sell their products will undoubtedly never be the same again; which is why it makes sense that the way they are marketed must never be the same again.
During lockdown, the only way to interact with the world was through digital avenues. Never at any point of time, except for now, have consumers and the creators been given one singular channel to consume and promote. It is now our job as Art Directors in the fashion industry to ensure that all digital tools are utilised in a creative and responsible way.
BT: You've had Art Director job experience with fashion brands in-house and with agencies. What are the main differences working in each of these environments?
GB: I think the differences between forward-thinking agencies and brands are far less than what they used to be.On one end, many brands are acting like their own fully fledged agency and are briefing and structurally organising as so.
On the other end, agencies are also doing much work to close that gap and more often than not, are working with fewer brands, acting as brand guardians to clients, and solidifying the relationships with a smaller, tighter group.
Everyone will be watching to see how this blurring of lines will continue to manifest. What I can say though, is that already the misconception about how close of a bond one can create to their brand in an agency is gone. You can have the fully rewarding experience of having a build-up of work and ideas that truly shape not only the consumers vision but also reinterpret the brand.
BT: If there was one professional you admire that you could power brunch with, who would it be and why?
GB: I'm not sure I would 'power brunch' with anyone, but a pint of Guinness with Sir Alex Ferguson would be interesting.
How he worked with young players, elevated them to be global superstars and lead Manchester United to great success and arguably football's first real brand, is a story I'd love to hear first-hand. If Michael Jordan and Steven Spielberg came and in and sat down too, it would take a week for me to come down from dreamland.
BT: If someone wanted to follow your steps and become an Art Director in the fashion industry, what advice would you give them on how to land their dream job?
GB: Don't stop. I can't emphasise that enough. If you want to land a Fashion Art Director job the worst thing you can do is stop. Your time will come, and believe that it will. You may go through moments of self-doubt or of course there are times when personal life matters takes over, but just don't stop. Do not stop.


Looking for a fashion recruitment agency to help you land a job as Fashion Art Director?

Get in touch and let us help you find your next role that goes beyond your expectations today.