In the fashion industry, pattern makers are integral to success, yet most people don't know about this profession. Many steps are involved in converting fashion designers' ideas into real-life clothes, and pattern makers are an integral part of this process. If you have a knack for sewing or are interested in fabric and design, you might want to consider becoming a pattern maker.
What is a pattern maker?

A pattern maker uses a designer's sketches, ideas and instructions to create patterns. Working with the designer or client, the clothing pattern maker outlines specific elements of the project and figures out how to cut and sew fabric to interpret the vision appropriately. The patterns are then used to cut out pieces of fabric that are sewn together to make clothing.
What does a pattern maker do?
To create patterns, a pattern maker uses hand sketches or computer-aided design (CAD) software. One type of patternmaking involves draping fabric over a mannequin and pinning and marking it to create the right shape and structure. Another common method is drafting the patterns on a flat surface using calculations and measuring tools. Once the patterns are created, the pattern maker is often responsible for sewing together a test garment. They might also work with designers and machinists to make alterations.
A pattern maker needs to be able to measure, calculate measurements and conceptualise designs well. Some are also skilled in drawing, and they usually have strong sewing skills. Pattern makers are sometimes involved in choosing fabrics, prints and colours for an article of clothing, so they should understand concepts of fashion design and aesthetics.
Types of pattern maker jobs
Because different materials and fabrics have different properties, pattern makers often specialise. For example, a sewing pattern maker specialising in bridal gowns has a different skill set from one working on leather handbags. Similarly, a specialist in swimwear should understand the intricacies of elastic fabrics, such as how they stretch out over time and which types of threads work best.
Job duties also depend on whether a pattern maker for clothes is working on custom designs, made-to-measure clothes or mass-produced apparel. How measurements and sizing are done varies for these different types of clothing production, so a pattern maker needs to learn the specific techniques used in their speciality.
One up-and-coming niche in the fashion world is circular fashion, and pattern makers with experience in sustainable practices and environmentally friendly fabrics might become more in demand.
How can you become a pattern maker?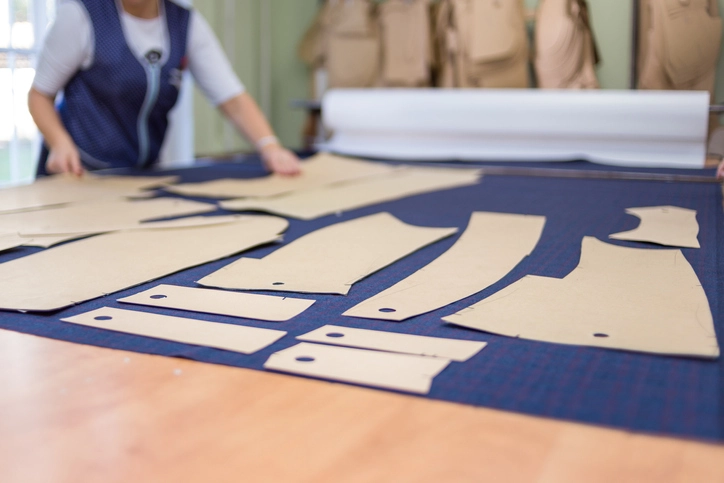 Sewing pattern maker
If you are interested in patternmaking, you can learn some basic skills on your own. However, to break into the field, you should get real-life experience and make sure you have the basic skills a pattern maker needs.
1. Build up pattern maker skills

The first step to becoming a pattern maker is working on foundational skills and knowledge. You can do this from home for free or low cost, regardless of your age or background. Free courses and guides are available online to help you understand patternmaking basics and what the profession is like. You can also learn how to use relevant CAD software and improve your computer skills in general.
Another tip is to practice sewing, drafting and drawing techniques, as it helps to have a foundation before taking classes or starting a job. Pattern makers also need strong interpersonal skills and good attention to detail, so any activities that foster these skills are useful.

2. Do an apprenticeship or internship

To gain hands-on experience and learn practical skills, you can complete an apprenticeship or internship with a company, school or established designer. These experiences give you an inside, real-life view of the industry while allowing you to build relationships, demonstrate employability and undergo training.

3. Pursue an education
If you are interested in a formal education, you can choose from several degree options. Certificate programmes, 2- and 4-year degrees and graduate-level courses exist for patternmaking. Although a degree is not necessary, it can provide you with training and connections that are hard to find elsewhere. For example, many fashion programmes provide their students with basic business and financial education, as well as opportunities to network and build relationships with important names in the industry.
Some top institutions that offer courses or programmes in patternmaking include Central Saint Martins, Parsons School of Design, London College of Fashion and the Fashion Institute of Technology. Some pattern makers study fashion design, fashion business, fabric technology or other related fields.

4. Get work experience

If you know you want to be a pattern maker and have some basic skills, you can start out in a related job and work your way up. For example, you can work as a grader or fabric cutter and learn on the job. Over time, you develop skills and connections in the patternmaking world, and you can eventually move to the position of pattern maker.
For more information about jobs in fashion, check out these articles: