Fashion buyers select and purchase merchandise for clothing companies. To make the right decisions, they need to consider price, style, trends and demand, which means they need to have a good understanding of fashion, business and finance.
In lifestyle, fast fashion or premium companies, buyers are responsible for the budget. They work daily with design and production teams, and they meet with vendors to choose products and negotiate costs.
They might also have to make sure that the product arrives on time and that the prototypes are acceptable for making the final purchase. To monitor product quality and sales, fashion buyers work with other departments on a regular basis. In some companies buyers are more numerical, and in others they are more creative.
Types of fashion buyers
What fashion buyers are responsible for depends on the location, size and culture of the business. The role can generally be divided into two main groups: branded and own-label buyers.
Own-label buyers
Companies that sell their own products, such as high-street retailers, often hire own-label buyers. These buyers are usually involved in the development process, and they work closely with designers and manufacturers to make items for the label.
Because this position includes managing budgets and high-stakes negotiations with suppliers, it can a high-pressure role. Own-label buyers often specialise in a particular area, such as outerwear or dresses, because of the time and attention they need to spend on the development process.
Branded buyers
This type of buyer purchases items directly from brands and labels. These products are already designed and developed, which means that these buyers are not involved in product development.
Branded buyers typically make purchases close to the season's release, so timelines are tight. There are often set times and places to make purchases and orders, such as at trade shows. It might also be important for branded buyers to build relationships with different brands and look for emerging labels.
Branded buyers who work for department stores tend to focus on a niche, such as women's work apparel or men's shoes. Those who work as wholesalers buy stock from brands or manufacturers and then sell it, often to independent shops and online retailers.
The main responsibilities of a fashion buyer
1. Buying and negotiating
One of the foremost responsibilities of a fashion buyer – purchasing items in line with a budget – is no easy task. They have to decide which pieces will sell well and which trends to focus on for the season. They also have to know how much money to spend and be comfortable negotiating deals and contracts with suppliers.
2. Staying up to date with fashion trends
To be good at purchasing items that sell well, fashion buyers have to understand what customers want. They attend trade shows, study trends and network with designers and executives to develop a keen sense of what's going on in the industry. With the rise of social media, they must also be aware of trends among influencers.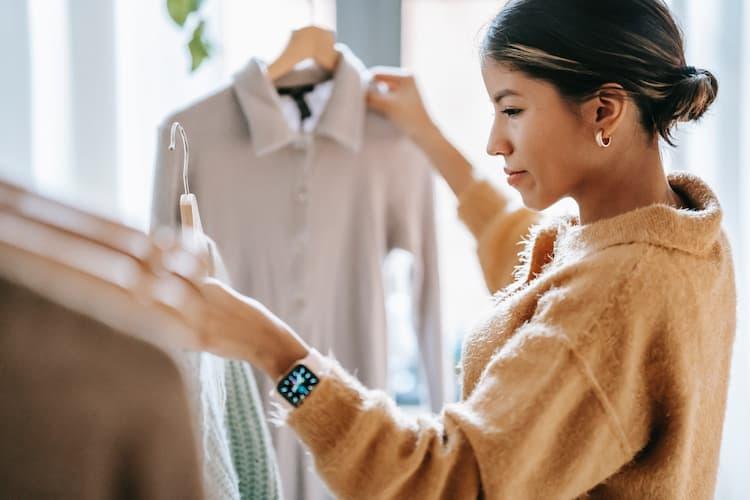 3. Analysing sales, profits and demand
The technical side of being a fashion buyer involves analysing sales patterns and managing inventory. To maximise profits, they forecast sales and trends and calculate gains and losses. In addition, many fashion buyers are responsible for managing orders and deliveries, so they have to be highly organised.
Skills and training
A company's success depends on how well products sell. Fashion buyers are partially responsible for a business's success or failure, so they must be able to handle this type of high-pressure environment.
Being a fashion buyer also requires good interpersonal and analytical skills. They have to negotiate and make decisions well. And given that they interact regularly with internal stakeholders and external suppliers, designers and executives, they typically have strong communication skills.
Although no formal degree requirements exist for this role, most fashion buyers have a bachelor's or advanced degree related to fashion, business, marketing or merchandising. Some large retailers offer training programmes to prepare people for jobs as fashion buyers, and many degree programmes provide internships to help students become assistant fashion buyers when they finish school.
Starting out as an assistant fashion buyer
Many fashion buyers begin in assistant roles to learn the basics before taking on more responsibility. An assistant buyer in fashion helps with selecting products but does not usually make the final decisions. This role also helps with placing orders and managing shipments. By working with senior buyers, they learn how to analyse the market, and they get real-life experience in the ins and outs of liaising with vendors and designers and negotiating prices.
Looking for more information about fashion jobs? Check out these articles:
https://beyondtalentrecruitment.com/blog/high-paying-jobs-fashion
https://beyondtalentrecruitment.com/blog/fashion-jobs-and-how-to-get-one
https://beyondtalentrecruitment.com/blog/fashion-recruitment-agency-help-you