As one of the largest industries worldwide, fashion provides an abundance of employment opportunities. It's also one of the most competitive fields, so if you want to get noticed by employers and land a great position, it's vital to write top-notch cover letters.
But what information should you include? How many words should a cover letter be? In this article, Beyond Talent's experts explain the steps of writing a standout cover letter and what you should and shouldn't do.
How to write a good cover letter
If you've ever researched "How long is a cover letter", you probably know how hard it is to express your achievements and enthusiasm without exceeding the typical cover letter length. That's why the first step is knowing how many words a cover letter should be and what major points you need to convey.
To do this well, you should research companies and job roles in depth. This process can be overwhelming, but companies like Beyond Talent Recruitment Agency help candidates by providing expert advice. They've helped many clients adapt their CVs and cover letters and improve their portfolios and interview skills. This side-by-side guidance in the recruitment process can be invaluable if you're struggling to develop a solid application, and it can help you prepare the best presentation possible.
Once you're ready to start, include these sections in your cover letter:
CONTACT INFORMATION: If you're sending or uploading your cover letter as an attachment, use a formal business letter format, including your name, date and contact information at the top.
GREETING: Start with "Dear" followed by the person's full name. If possible, direct the letter to the person in charge of hiring. If you can't identify the person, use "Dear Hiring Manager", "Dear Recruitment Manager" or another appropriate title.
INTRODUCTION: Introduce yourself briefly by explaining why you're contacting them and interested in the company and role (if there is one). Start with a catchy sentence that shows your passion for the work, research on the company, or unique personality or traits.
SUMMARY: Add a brief but specific description of any goals you've achieved related to the role. You should also include quantitative data – by including hard numbers about your achievements, you help the reader envision what you can do and why you're perfect for the job. Candidates often make this section too wordy, so if you aren't sure how long your cover letter should be, err on the side of brevity and stick to the most important points.
CLOSING: End with a summary of why you're applying and express genuine interest in the company. Finish by thanking the recipient, requesting an interview and listing your contact information (again) for convenience. Attach your CV and include a signature.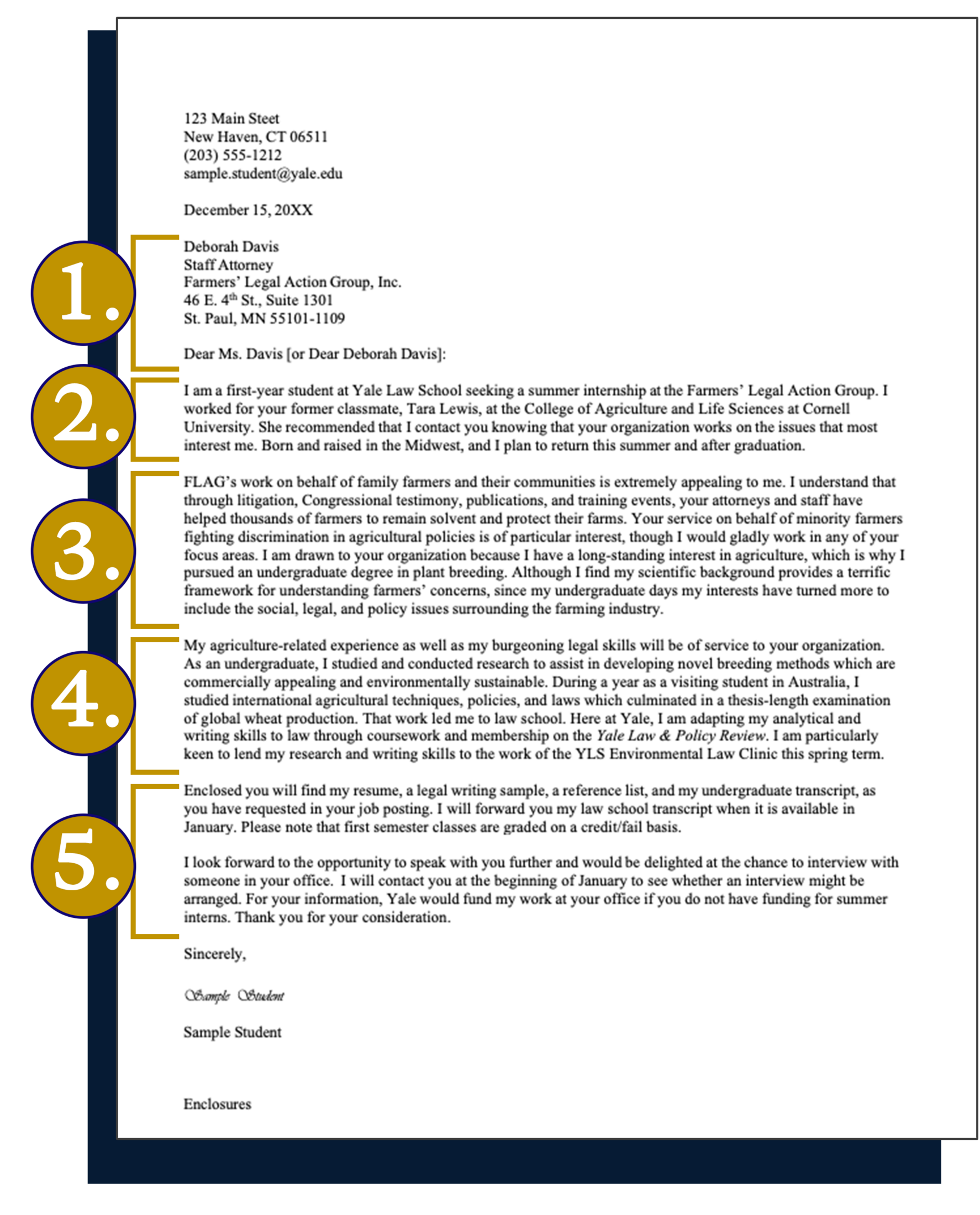 Example of a cover letter structure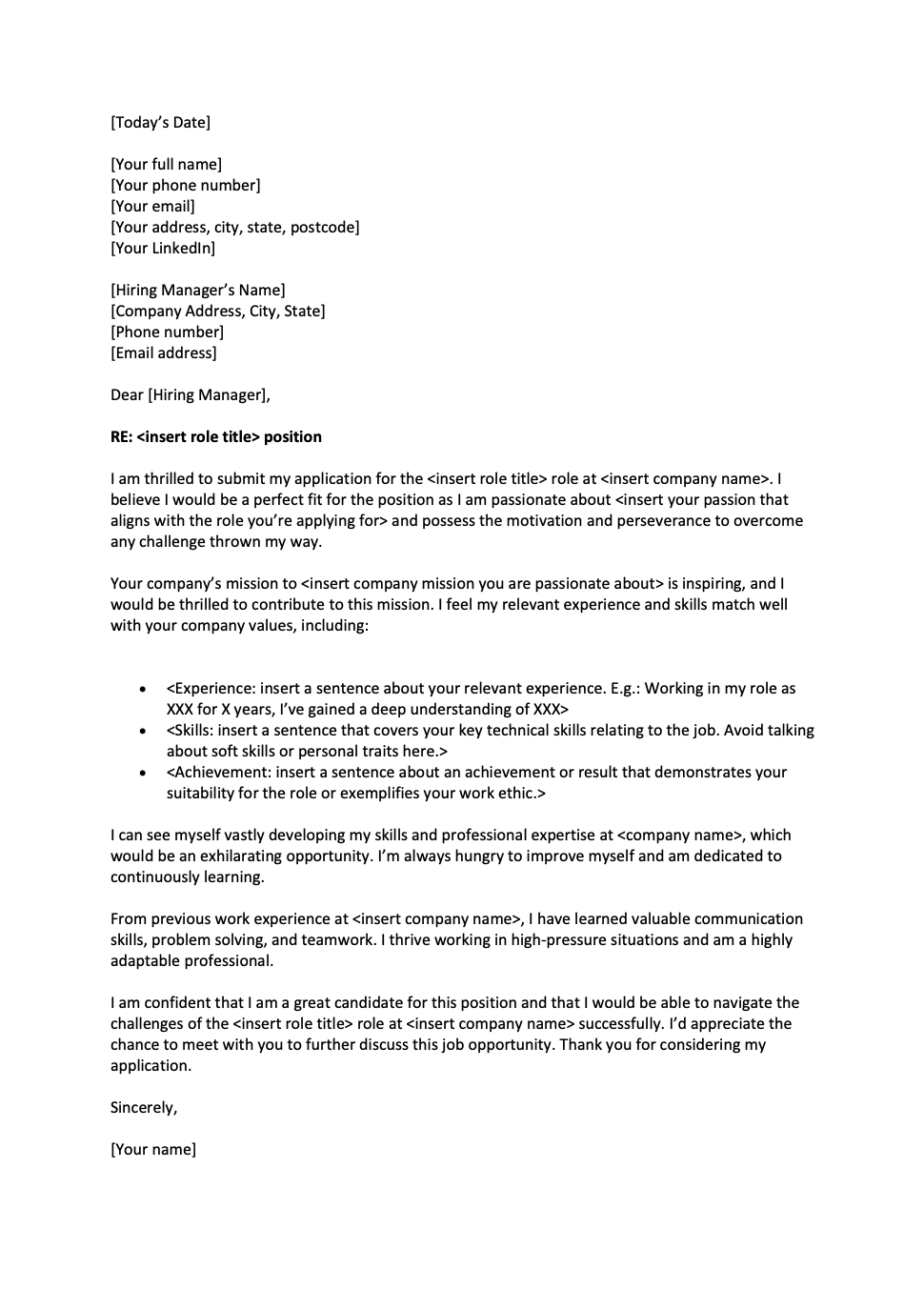 Example 2: how to write a cover letter
FAQs

1. How many words should a cover letter be?
Cover letters don't have to be long to be effective. In fact, experts say that cover letters shouldn't exceed one page. However, exactly how many words a cover letter should be depends on many factors, including the level of the position and standard practices in your niche.
Because the cover letter is an opportunity to present a compelling writing sample, keeping it short allows you to show off your ability to convey ideas clearly and effectively. If a job posting doesn't specify how many words a cover letter should be, it's safe to assume that 250 to 350 words is acceptable.
2. Are job postings important for writing cover letters?
Always research job descriptions carefully. They usually list specific requirements, and you should highlight these your cover letter. You might also find instructions, such as how many words a cover letter should be or which text include in an email subject line. It's vital to follow any instructions to make sure you pass the screening.
3. What if I'm not applying for a specific position?
If you're interested in working for a company but no openings are available, you might want to send an unsolicited inquiry. You should organise your cover letter in the same format but be more generic in your text. The idea is to attract the reader's attention and get them to consider you for various positions.
4. Should I write a new cover letter for each application?
Yes – different employers have different expectations, so you should tailor each cover letter for the specific company and position, even if you're applying for multiple similar roles. For example, one company might prioritise sales records whereas another wants strong team players. They might also have unique expectations about how many words a cover letter should be or what information to include in your CV, and it's important to show you've done your research.
5. How should I format a cover letter?
Set the margins between .5 and 1 inch to evenly space the information. Line spacing should be between 1 and 1.5 so the text isn't too spread out or crammed together. It's also important to choose a font that is readable and professional, such as Calibri or Georgia, set between 10 and 12 point.
Don't be tempted to use small font or narrow margins to fit your text onto one page. How many words a cover letter should be won't change regardless of the formatting, so if you have to change the settings to make it fit, your letter is too long.
What to avoid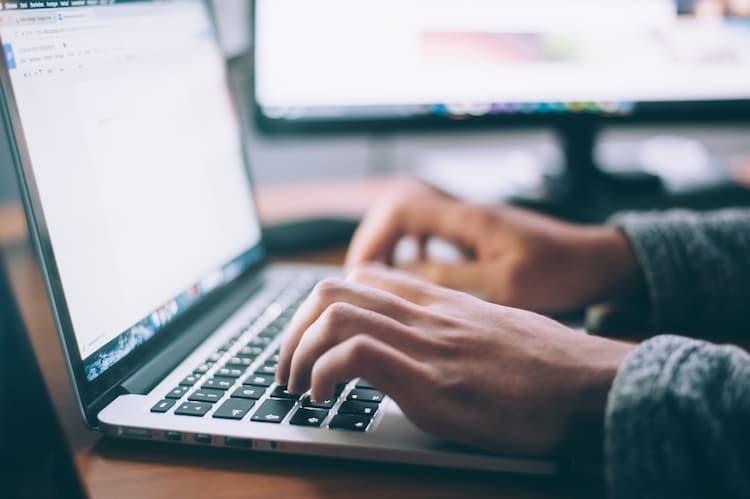 Being repetitive: If you use the same words or sentence structures throughout your letter, readers might assume you didn't put effort into it. Be sure to use a snappy, interesting writing that doesn't repeat information.
Writing too much: Long-winded letters often get discarded quickly. Consider how many words a cover letter should be so you can focus on the key points without overwhelming the reader.
Including photos: A cover letter is not a CV, and adding your photo might be seen as unprofessional. In certain countries, using photos during hiring might even go against anti-discrimination and labour laws, so try to avoid it.
Being too funny: This technique can be a double-edged sword. Although a humorous letter might show confidence and creativity, few situations exist in fashion where this would work well.
Formatting incorrectly: Poorly formatted letters get tossed aside because they don't look polished, so use consistent font styles and formatting conventions throughout the text. It's also best to use black text only, so avoid coloured fonts.
Handwriting: Never submit a handwritten letter, even if you have great handwriting. Instead of standing out in a good way, you'll seem out of touch and unprofessional.
The short answer to how many words should a cover letter be:
There's no definitive response, but you should follow best practices: stick to one page, tailor your letter for each job and highlight your most impressive accomplishments and skills. And do your best to let your authentic self shine through.
Looking for more information about the fashion workplace? Check out these links:
Secure your next fashion job with expert CV writing tips

Types of Fashion Jobs and How to Get One That's Right for You