Most people know that networking helps with career advancement. But rather than being excited about it, many professionals panic when they think of cocktail parties, lunch meetups and elevator pitches. And for people working in fashion specifically, the amount of networking they need to do can feel overwhelming.
This article provides insight into why you should welcome rather than avoid networking in fashion. We outline the basic steps for building a strong network in the fashion world, and we reveal how you can make the process easier and more successful.
Why is it important to network in fashion?
Networking is valuable in all industries, but in fashion, it's absolutely crucial to success. For fashion professionals to make a name for themselves, they have to gain exposure and be in the know about fast-changing trends. And because the industry is so competitive, who they know can be just as important as what they know.
But networking involves more than sending emails and LinkedIn requests. It's about interacting and building relationships so that both parties benefit and support each other. This means that in the fashion industry, your network of relationships provides a lot with more than job opportunities – it offers you support and serves as a community for discussing important topics.
And if these benefits aren't motivating enough, you can explore different networking methods that can make the process an exciting and fulfilling part of your career.
How to network in the fashion industry: 4 basic steps
1. Start small, then diversify
When building a network in fashion, start small by connecting organically with your peers. By starting with people of a similar age or seniority level, you'll have natural conversation topics and be able to build authentic connections right away. For example, if you're an assistant, it's easier to connect with other assistants than with senior-level professionals. And if you're in mid-management looking towards the executive level, you could ask managers at other fashion houses or companies to go for coffee to discuss current industry issues.
Once you build up your skills and a strong network in your fashion circle, branch out to higher-level professionals and contacts from other fields and backgrounds. Diversifying your fashion network is important because collaboration tends to be more of a priority the further you advance in your career.
2. Know where to network in fashion circles
Some networking avenues are universal across niches, like social media and flagship industry events. LinkedIn is the best social network for professionals, and it's widely used in the fashion world. If you're looking build your network, the first place to start is improving your LinkedIn profile.
Other options aren't so easy to spot. In fashion, networking at events is crucial, but endless opportunities exist. Rather than choosing events specifically for networking, look into courses, conferences or events about topics you like. For instance, if you're interested in circular fashion, invest your time and money in events for sustainability and social responsibility – even if they are small and draw fewer people – rather than in general events where you might not relate as well to others.
In fashion, it's hard to know who the gatekeepers are, so don't assume you should network only with top-level people. You might be surprised at the connections you can make by getting involved in your community, pioneering a grassroots fashion initiative or starting a local fashion meetup. Be creative!
3. Do your research
Some people have stellar social skills, but even the most charming ones need substance to back them up. By being well prepared, you'll come across as knowledgeable, confident and competent, and it will increase the chance that others will want to network with you for your fashion knowledge and contacts.
Before going to an event or meetup, check out the backgrounds, interests and achievements of the attendees. If you know about the people you'll mingle with, you'll be able to discuss topics that pique their interest, and you'll have easier ways to start conversations. And by having talking points ready, you can get potential contacts to feel comfortable and talk about themselves.
4. Follow up and maintain connections
Be sure keep in touch with connections you make. If you meet a colleague at an event and then exchange only an email or two, it'll be hard to reconnect with them a year later when you're looking for advice or a job. In addition to having in-person meetings, you can cultivate relationships by staying present on social media and reaching out through the occasional phone call or hand-written note.
This step can be particularly difficult when you network with fashion professionals outside your speciality because you don't cross paths as often, but social media and industry-wide events are great ways to foster those ties. If you haven't been in contact in a while with someone in your network, check out their social media and find out what they've been up to. Sending a congratulations message or note of encouragement can go a long way.
Quick tips for making networking in fashion easier and more successful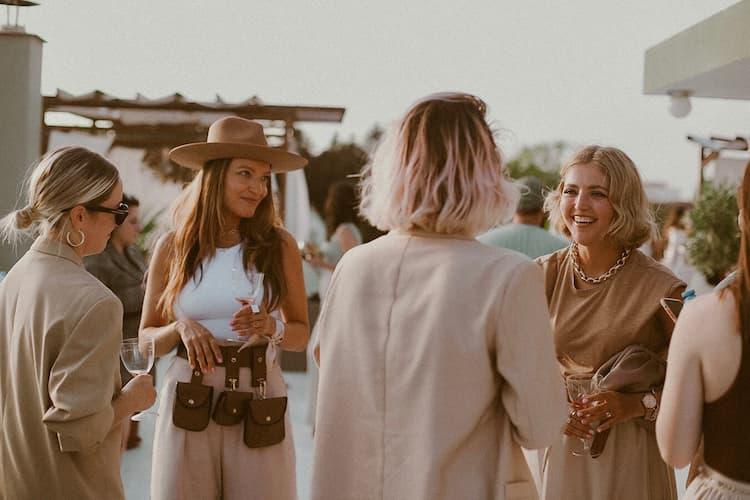 Tip 1: Give first, take second
Networking isn't about asking for favours – it's about spending time with like-minded people and giving and receiving support. Although it's important to pursue your goals, think first about what you can offer others.
By giving before taking, you'll foster a positive mindset and reputation, and people will be interested in what you have to offer. And once you've established that you're willing to help, you can develop two-way relationships and think about ways to benefit from your network in the fashion world.
Tip 2: Work with a fashion recruitment agency
Working with a fashion recruiter can give you a big boost. They can give you unique insight into your field and often provide exclusive contacts that are hard to find elsewhere. Some of them also help candidates prepare for interviews and develop portfolios, making it easier to find work and network with fashion professionals. It's like having a someone on your side who can assist with negotiating salary, highlighting your attributes and making you more visible.
Tip 3: Be authentic and patient
It's hard to make real connections when your heart isn't in it, so it's important to be honest and sincere when reaching out to others. Whether you're networking on LinkedIn or in person, you'll be more successful if you listen and respond thoughtfully. And by staying down-to-earth and friendly, you'll let people know that you're approachable and trustworthy.
If you struggle with social events and building interpersonal connections, don't despair! Research concrete ways to build your skills slowly over time. Networking is definitely something you can improve, so practice ice breakers, elevator pitches and conversation techniques on your friends. You'll see small gains right away, which will lead to major improvements in the long run.
If you'd like to know more about jobs and building a network in the fashion world, read here:
https://beyondtalentrecruitment.com/blog/how-to-stand-out-to-fashion-recruiters-linkedin
https://beyondtalentrecruitment.com/blog/fashion-jobs-and-how-to-get-one
https://beyondtalentrecruitment.com/blog/fashion-recruitment-agency-help-you
https://beyondtalentrecruitment.com/blog/fashion-job-interview-tips