Supply chains have come under scrutiny in the past year and it's crystal clear that the fashion industry's traditional supply chain model will not be sustainable for the future. How the world's garments are designed, manufactured and delivered is crucial to meeting environmental goals - as well as future-proofing brands. The industry needs to find solutions to improve the supply chain model, and find these solutions fast.
Supply chain management pieces together every element of a fashion company to enable it to function and trade. We know your time as a professional is limited, which is why we've written an easily-digestible article to help you get to grips with the supply chain issues and the changes that lie ahead.
What is a fashion supply chain?
The simplest way to explain a fashion supply chain is the sequence of events that take place to get a garment from design to the shop floor. Here are the most common stages:
Design
Sourcing materials
Production
Packaging
Shipping
Warehouse
Shop floor (virtual or bricks-and-mortar)
With each supply chain stage there are also other elements, and people, involved. For example, production includes makers, machinery, and production managers, to name a few. In short, fashion supply chain management is a complexed and considerable task. Which is why it's not always easy for fashion businesses – especially large ones – to get it right.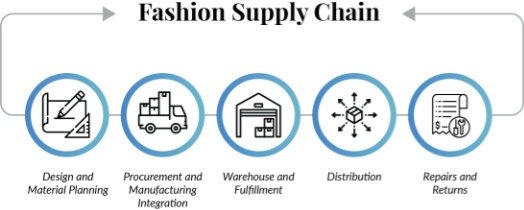 What are the key issues in fashion supply chain management?
The pandemic brought to light the biggest issues taking place in the fashion supply chain. They are: transparency,communication, cost equality, and even-handed collaborations. Basically, fashion brands have not been able to understand the full picture of their chains for some time, including where materials come from. And, factories have been expected to pick up the pieces when orders are cut short or cancelled altogether, which is effecting jobs and livelihoods.
Here's a bit more information about each of the issues currently being faced within a supply chain in the fashion industry:
Transparency
Supply chains are so complexed that it's easy for businesses to have very little visibility of every single detail and person involved in their processes. Many aspects of the supply chain are outsourced, which makes chains more difficult to understand. The impact is that brands are not completely sure about each step their goods go through to get to the shop floor, and manufacturers are making goods to meet deadlines when a company might not need them, leaving them with a lot of waste and out of pocket.
Communication
Whilst the introduction of emails sped up many fashion supply chain processes in the 90's, the world now expects even more instant replies when communicating. The fashion industry is also behind when it comes to digitalising processes and using systems to create a seamless workflow.
Cost equality
For too many years brands have got away with paying low costs for garments in return for large repeat volumes. Consumption levels are changing and consumers are now committing to buying less in order to protect the planet. The impact of less consumption will financially effect fashion brands as well as the rest of the supply chain. No longer can low costs be a driving factor. All suppliers in the chain need to work together to make sure everyone survives and gets their fair share of the profits.
Even-handed collaborations
Fashion brands used to have the power. Suppliers and manufacturers would fall over backwards to work with them. But, with sustainable, diversity and corporate social responsibility pressures mounting on brands, partnerships will start to become more even. To truly make the fashion industry more sustainable and future-proof everyone within the supply chain, businesses will need to start working more collaboratively and help fund new technologies required to meet sustainable goals. For example, Bangladesh-based denim manufacturer, Mostafiz Uddin, asked some of his customers to secure a £3 million loan to pay for upgrades so he could operate more sustainably. The only company to say yes was H&M Group. Conversations like these will become more commonplace and businesses need to find ways to say yes and support each other.
What does a sustainable fashion supply chain look like?
When the fashion industry can eventually prove its supply chain is sustainable it will more than likely involve fewer processes, more digitalisation, and innovative collaborations.
Sustainable fashion brands are already leading the way in supply chain management and their streamlined approached allows them greater transparency and oversight. Take ArmedAngels for example. This is a company that proves it knows everything, from the machinist in India that makes their garments, to the train in Germany that transports their stock, right down to amount of CO2 it emits per year.
The changes that lie ahead presents a great deal of opportunity for technology brands to step in and develop new processes to meet sustainable goals. "A modern tech stack" is a current buzz word in the industry. It's an online system that ditches the use of spreadsheets and allows the entire supply chain to see what's happening in real-time.
Top fashion supply chain management jobs
Supply chains have suddenly become more exciting and the career opportunities are fruitful. Not just financially, but supply chain specialists are about to be part of one of the biggest changes the fashion industry has ever seen. Whether you already work within supply chain management and are looking for a new challenge, or you're considering a career change, here are the top paying supply chain management jobs (earnings are based on the average salary of each role in the UK):
Head of Logistics (£140,000)
Supply Chain Management Director (£110,000)
Global Supply Chain Management (£110,000)
Supply Chain Manager (£68,000)
Purchasing Manager (£56,000)
Procurement Manager (£56,000)
Distribution Manager (£56,000)
Production Manager (£50,000)
Logistics Manager (£50,000)
Operations Manager (£43,000)
Logistics Analyst (£35,000)
Interested in career opportunities within the fashion industry? Why not check out these articles too.

Use our expertise as a top fashion recruitment agency to find your next role or candidate beyond your expectations.