Digital marketing has revolutionised how businesses function around the world, and the fashion industry is no exception. Instead of learning about the latest trends through print ads, TV commercials and word of mouth, you now get most of your information from social media, websites and apps. And rather than going to brick-and-mortar shops, you can do your shopping with just a click from your phone.
In fashion, digital marketing has changed not only how and what people buy, but how brands design products and reach customers. In this article, we discuss why online marketing for fashion is important, how it's had an impact and what some current trends are.
For fashion, digital marketing is vital
The fashion world is known as one of the most competitive and fast-paced industries in the world. To be successful, brands must be relevant and stay ahead of the competition – and one way to do so is to leverage online marketing – which involves promoting and advertising through tablets, laptops, smartphones, smart TVs, wearable devices and more.
In fact, digital marketing has become the norm. In 2023, more than 5 billion people use the internet and more than 4 billion use social media. This means that any kind of retail industry heavily relies on online marketing, and fashion consumers specifically have come to expect the accessibility and personalisation it offers.
The many advantages of fashion digital marketing
Traditional advertising is still important, and print magazines, TV adverts and catalogues are still widely used. But especially for fashion, digital marketing offers many benefits over traditional methods that make it a necessary and worthwhile investment.
With digital marketing, fashion businesses can:
increase audience reach and exposure
drive sales and traffic
improve customer targeting and personalisation
enhance customer service
develop brand engagement, transparency and loyalty
get a better return on investment
measure results and use analytics
How digital marketing for fashion has affected the industry
From e-commerce to supply chain optimisation to PR practices, the fashion industry has changed massively during the digital age. Online marketing, in particular, has had unique impacts on the industry. Here are 3 of the main ways it is altering how the fashion world works:
1. Empowerment of small businesses
Fashion digital marketing has helped level the playing field for businesses of all sizes. It has allowed smaller brands to compete with larger ones because they can reach target audiences quickly and directly in a much more cost-effective manner than traditional advertising.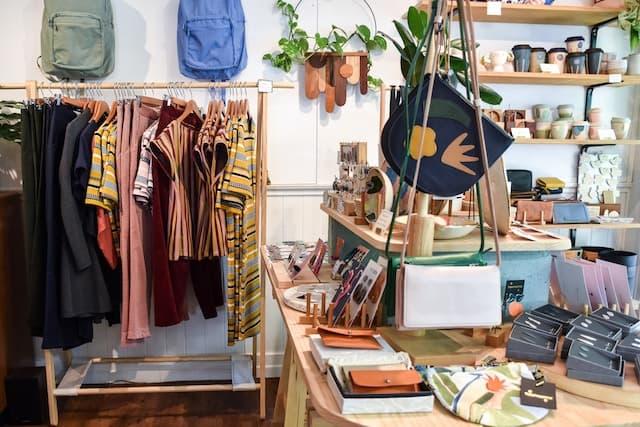 Small brands and start-ups can use social media, influencers and other online marketing techniques to build a customer base much more effectively than in the past. It's also common for small businesses to use a fashion digital marketing agency, which are companies that focus on helping brands and designers promote and sell their products.
2. More direct-to-consumer practices
Another important change is the focus on direct-to-consumer models. Digitisation has led many fashion brands to reduce the use of intermediaries and sell directly to their audience. By reaching customers 24/7 on various devices, companies can gain more control over their product offerings and enhance their relationships with consumers.
This trend in fashion digital marketing is important because it leads to increased targeting and personalisation, which transform marketing practices and plans. Over time, these changes alter customer expectations, and businesses must adapt to follow suit.
3. Influencers and social media marketing
Because of the ubiquitous and powerful nature of social media, fashion brands have to be successful on social media and engage with customers across many channels. This involves collaborating with influencers and leveraging platforms like Instagram, TikTok, Facebook, YouTube, Twitter, Snapchat, and so on.
However, a new trend of 'deinfluencing' is appearing, in which influencers and followers recommend which products people should avoid. It's not totally clear whether this trend is discouraging overconsumption or merely being used to promote certain products over others. Either way, the use of social media and influencers in fashion digital marketing is an important trend worth staying on top of.
Real-life examples of successful fashion digital marketing
Michael Kors
This luxury brand got involved in the digital landscape early on, and they have long used online marketing and social media to reach younger audiences. They share behind-the-scenes content, engage with consumers on apps and various channels and use extensive personalised marketing techniques.
One of their particularly successful digital marketing efforts is their yearly Watch Hunger Stop campaign for the United Nations World Food Programme. They create unique products each year and donate 100% of the proceeds. By posting original content on social media and showcasing their own employees on a dedicated landing page, they improve engagement, transparency and loyalty – and benefit from lots of user-generated posts – all in addition to working towards a worthy cause.
Gucci
It is widely known that Gucci invest heavily in digital marketing, including personalised emails and product recommendations, elaborate social media campaigns and extensive online advertising. They also found massive success with product-focused marketing on TikTok and were the first luxury brand to purchase real estate in the metaverse.

Currently, their use of influencers and celebrities in fashion digital marketing is particularly effective. To pique interest and get people to share content, Gucci is known for creating digital campaigns that use influencers to tell interesting stories – and that storytelling content is much more likely to get shared and promoted.
Burberry
Burberry's early and revolutionary Art of the Trench campaign – one of the first ever to incorporate social media and customisation – placed this top brand as a leader in online marketing. Since then, they've continued their reign as a powerhouse of fashion digital marketing, boasting a virtually perfect website, unique Snapchat integration and numerous creative digital projects, such as Minecraft outfits.
In a bold move in early 2023, Burberry cleared their social media accounts before posting their new logo and first campaign under new chief creative officer Daniel Lee. And after London Fashion Week, Burberry generated $5.3 millionworth of earned media value, making them one of the top performing brands.

Overall, digitisation has had a profound impact on the fashion business. It has reshaped consumer behaviour, transformed business models and enabled personalisation. By embracing digital marketing and online integration, fashion brands can thrive in this rapidly evolving industry.

Want to know more about other current business trends in fashion? Explore more articles below: